When you're responsible for the integrity of infrastructure like pipes, water mains, roads and culverts that serve a population of roughly 250,000, you need an asset life cycle management system that runs as efficiently as possible. This is the case for the City of Burnaby in British Columbia, Canada. To ensure inspections, repairs and replacements are carried out when necessary, the Engineering and Finance departments need data on assets such as the infrastructure's materials, location and life expectancies from the original and as-constructed designs.
For years, designs were submitted by consultants and construction contractors in a range of different formats and data models, creating significant extra work entering it into various internal asset management, GIS and finance systems. They were determined to make this process more streamlined to both better serve the city, and be more efficient with resources.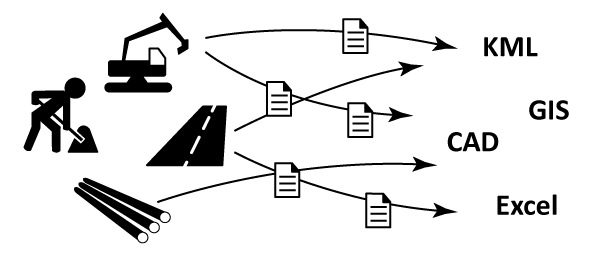 Step 1: Adopting a Data Standard
They decided to adopt the Master Municipal Construction Documents (MMCD) Infrastructure Data Standards for all data submitted from capital infrastructure and land development projects, at the end of both design and construction phases. This solved the problem of data coming to them in disparate formats and models, but they still needed a way to plug into this standard, extract the data and transform it for use in a variety of internal applications. The solution: FME's data conversion technology.
Step 2: Transforming & Distributing Standardized Data
Several minds were at the forefront of this project: Herman Louie, and Matthew Paivinen from the City of Burnaby GIS Department, as well as Andrew Walther of APW Engineering. Intricately involved in the development of the MMCD standards, Andrew was hired to oversee its implementation. Herman was responsible for developing an improved system of moving data from submitted documents to various internal systems.
The standard is based on AutoCAD Civil 3D; however, the City of Burnaby introduced AutoCAD Map 3D object data functionality to accommodate non-Civil 3D attributes. "Having each used FME before, we knew that it was the only solution that supported Civil 3D objects as well as AutoCAD and Map 3D data, and that it was a good fit for what Herman was trying to accomplish," says Andrew.
Using FME Desktop, Herman constructed several workflows that extract and transform data from the Civil 3D and Map 3D designs into formats that enable stakeholders working outside of the CAD environment to access it in their preferred applications.
For instance, the Finance Department require infrastructure asset data when generating annual reports. An FME workflow transforms data into KML for simple viewing in Google Earth, and into Excel for analysis and reporting using SAP. In each case, the exact information required is extracted and manipulated so that it appears and works optimally for the end user.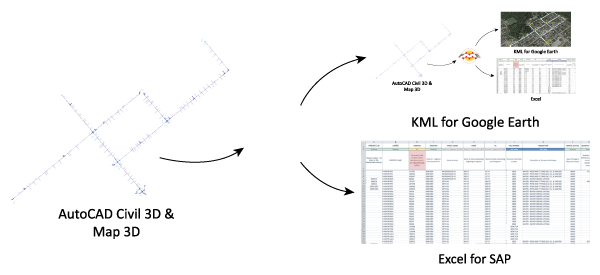 The use of the MMCD standard in combination with FME has saved the City of Burnaby hours of time fighting with design submissions to make them work in different capacities in different systems. Next they are looking to use FME to validate submissions to ensure they adhere to the MMCD standard prior to processing and distribution.