For municipal governments, a commitment to economic growth, public safety, and thriving communities is top of mind. This is extremely important as the UN predicts that 68% of the world's population will reside in urban areas by 2050. As more people settle in urban communities, we can expect to see an increased investment in new initiatives, development and services. 
Protecting Underground Utilities: Out of Sight, but not out of Mind
When it comes to development–whether it's a project on personal property or deep excavation at a large construction site–there's an intricate network of infrastructure below the ground that keeps our cities running. Whenever a homeowner or contractor is looking to excavate, there's always the risk of ground disturbance to natural gas lines, telecommunications lines, the sewer and water network, and buried cables and conduits. 
Damage to underground utilities and infrastructure can result in millions of dollars in costly repairs, cause citizens to be displaced from their homes, or pose significant harm to citizens or city workers. To protect buried utilities and to ensure public safety, many municipalities take proactive action by becoming a member of a "One Call" association to help homeowners and contractors locate what's beneath or around a site before they dig. 
The Challenge: Ensuring Safety and Delivering Timely Information
As the third largest city in British Columbia, Canada, the City of Burnaby has experienced exponential growth in the past two decades. The total number of requests received throughout the entire year in 1994 was 140, compared to a record number of 102 received in a single day on June 7, 2018. Bound by provincial legislation, the city then has three business days to turnaround an underground information package to the homeowner or contractor.

The goal is to provide as much information as possible about the dig site, including as-built drawings, service line information, the location of underground utilities, and related KML files. When this became unsustainable to manage in the early 2000's, the GIS team developed in-house apps to help speed up the data gathering process. By 2017, the demand was so significant that packages were now taking 1-2 weeks to fulfill and the team needed more manpower, which would add to rising costs in the long run.
These urgent challenges became clear: how can the city continue to ensure the protection of underground utilities, ensure the safety of its citizens and city crews, deliver accurate and relevant information in a timely manner, while improving operational efficiency?
The Solution: The Future of "One Call" Response Systems Lives in the Power of Automation
The first step was looking at ways existing technology could be leveraged to further enhance cost savings. For Herman Louie, GIS Analyst at the City of Burnaby, this started with re-evaluating FME's role as simply an overnight data merging tool. 
The team used FME to create a workflow that parsed the email body of the submitted ticket which then kick starts the data collection process from their GIS and asset management systems in real-time.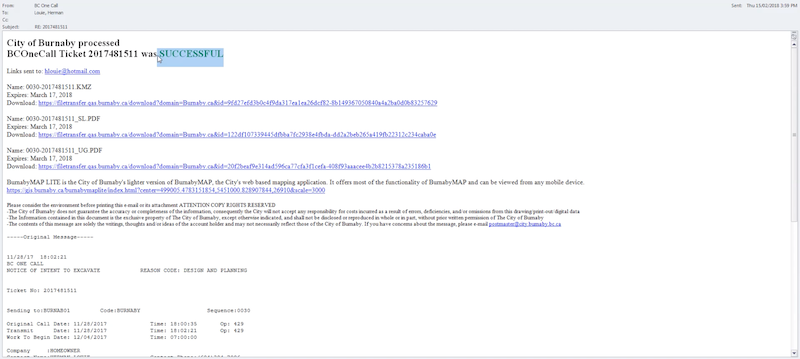 In the end, FME automatically builds an email response to the original ticket with relevant files for the requestor to download via web links.
Before FME, this package was assembled manually by one staff member and the need for additional manpower was projected to peak in 2018. A large excavation locate request often took hours or even days for one staff to complete. Today, this process has been streamlined and reduced to 3 minutes, with no staff intervention needed. 
"Through FME, we're able to process a large package in approximately 3 minutes and 1 minute for a smaller package. At 3 minutes per ticket, we can handle 150,000 calls through one FME engine and we can now process tickets 24/7 – anytime, anywhere," says Herman. 
This has also alleviated the risk of manual errors and reduced the demand on staff, enabling them to maximize their time towards other high-impact services.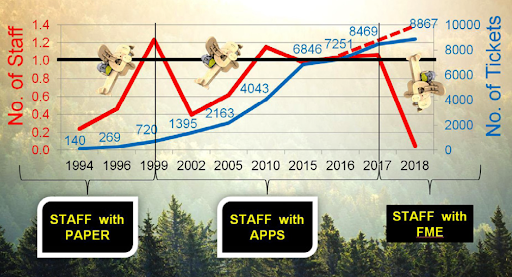 Setting an Example for Operational Efficiency
This transformation at the City of Burnaby has become a leading example for municipalities across North America. This is only the beginning as we can expect local governments to continue raising the bar, improve operational efficiency and deliver immense value to its organization and its citizens through an automated "One Call" response system.

We're happy to answer any questions to help you get started. Learn more about the different ways local governments use FME to achieve operational efficiency in "8 Ways Local Governments Can Improve Operations Using Data Integration" or contact us for more information.  

Tina Sha
Tina is a product marketer at Safe Software. When she isn't sharing the amazing stories of our customers, you can find her at local coffee shops, discovering a new noodle dish, or working on her next DIY project.