Indoor mapping has become essential technology for airports of all sizes. From an operational perspective, indoor mapping helps staff track assets and infrastructure, and by gathering sensor data on foot traffic, an airport can understand space utilization and gain insight on where to put new stores to maximize revenue.
Beyond operational value, enabling indoor wayfinding can greatly improve passenger experience. Let's look at a few airports who have won awards for their passenger experience, and how indoor mapping played a role in this.
Vancouver: Interactive maps for web and mobile
YVR, our hometown airport here at Safe Software, has won the SKYTRAX Best Airport in North America Award for eight years running due to their world-class passenger experience. To help passengers navigate, they built an FME data integration workflow to combine their floor plans and asset/infrastructure data and generate: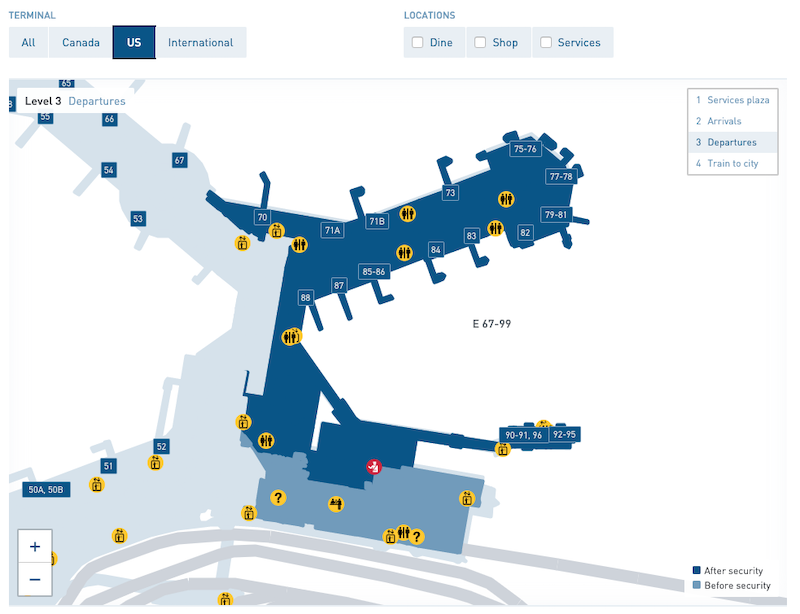 Passengers can explore YVR online using an interactive map powered by FME.
YVR was one of the first to provide its indoor mapping data to Apple Maps, and combined with their custom web maps and mobile app, this gives passengers a variety of ways to experience the airport digitally. The airport's GIS team uses FME for a variety of scenarios, including CAD-to-GIS conversions, GeoJSON transformations, and automated nightly updates. Learn more about how YVR uses FME
Amsterdam: Augmented reality wayfinding and more
Amsterdam Airport Schiphol (AMS) is a top airport in Europe renowned for their use of cutting-edge technology. Using FME, they've enabled navigation via a custom wayfinding app, made indoor mapping data available to the public via their library of open APIs, and generated maps for indoor mapping providers like Apple Maps.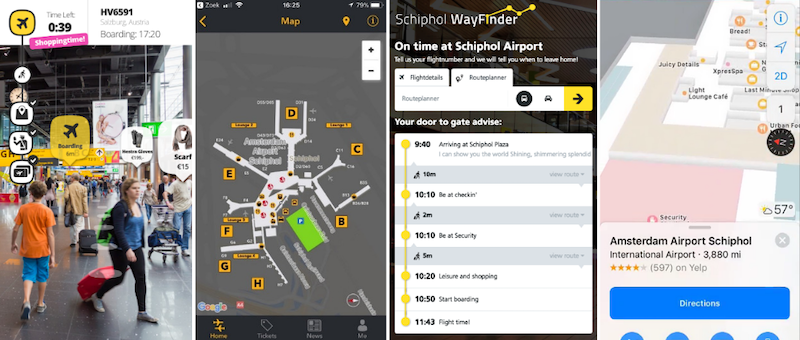 Schiphol used FME to enable mobile wayfinding for passengers in several ways, including augmented reality.
Schiphol's first step was to build an FME data integration workflow to connect asset and infrastructure data from across departments into a unified GIS database. From there, they were able to generate indoor maps (and a lot more!). Watch the webinar to learn more about how AMS uses FME
Victoria, BC: Converting to IMDF for Apple Maps
YYJ brought their airport into IMDF for indoor navigation in Apple Maps. Using FME, they read their source Esri Geodatabase datasets, transformed and cleaned the data, and then generated an IMDF dataset. After validating them using FME's IMDF Validator tool, they submitted their dataset to Apple Maps.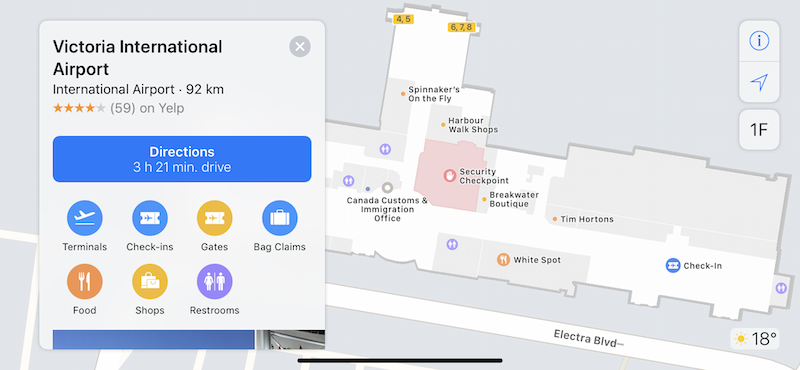 YYJ converted their floor plans to IMDF. Now passengers can navigate the airport using Apple Maps.
Converting floor plans and infrastructure to IMDF is a difficult process if you try to do it manually, but thankfully, FME automates a lot of it. You can follow the step-by-step process used by YYJ in this tutorial.
Denver: Interactive online map
DEN is the largest airport in North America by land area, so creating a map of this airport was a guaranteed challenge! Further complicating things, their facilities and building information models change daily as a result of their many active construction projects, so their maps would need to stay up to date and reflect these changes.
DENmaps is an interactive online map that helps both staff and passengers keep up to date with the airport's assets and infrastructure.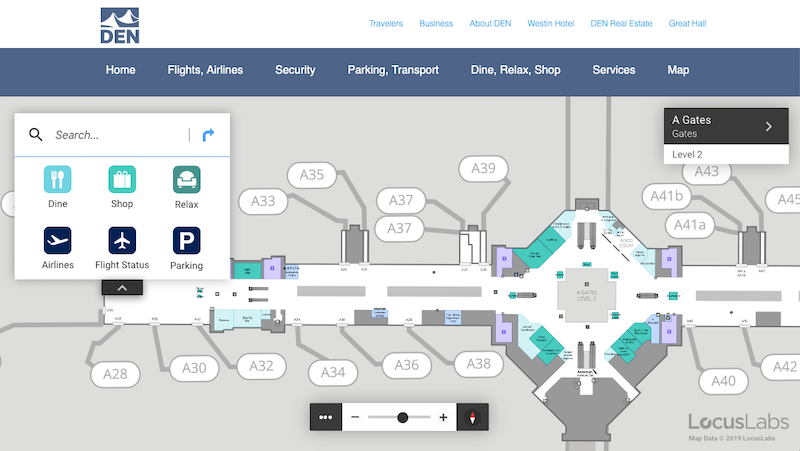 Passengers and staff can explore Denver airport with DENmaps, a rich interactive online map generated using FME.
To generate the map, they built an FME data integration workflow to connect information from IBM Maximo and other sources. View their presentation slides to learn more about their projects.
How to get started
As airports expand and incorporate technology into their everyday processes, enabling indoor mapping is becoming increasingly important. Not only does indoor wayfinding help passengers navigate, but it can also help improve safety, situational awareness, and facilities management. Whether you implement a basic IMDF conversion or a full augmented reality indoor wayfinding solution, both passengers and staff will benefit from being more aware of the airport's spaces and assets.
These four airports are just a sample of what's possible. To learn more about how FME helps airports, visit safe.com/airports, and check out the FME Community for tutorials and our Q&A forum.

Tiana Warner
Tiana is a Senior Marketing Specialist at Safe Software. Her background in computer programming and creative hobbies led her to be one of the main producers of creative content for Safe Software. Tiana spends her free time writing fantasy novels, riding her horse, and exploring nature with her rescue pup, Joey.