Effortlessly Translate & Transform SHP Data
With spatial data coming in different shapes, sizes, and formats, it can be challenging to make it available where and how you need it. FME offers the best support for spatial data to seamlessly transform shapefiles for a GIS such as ArcGIS. Need to convert shapefiles to a different format? FME has you covered. With support for over 450 formats, FME can convert SHP files to and from KML, CSV, DWG, and many more!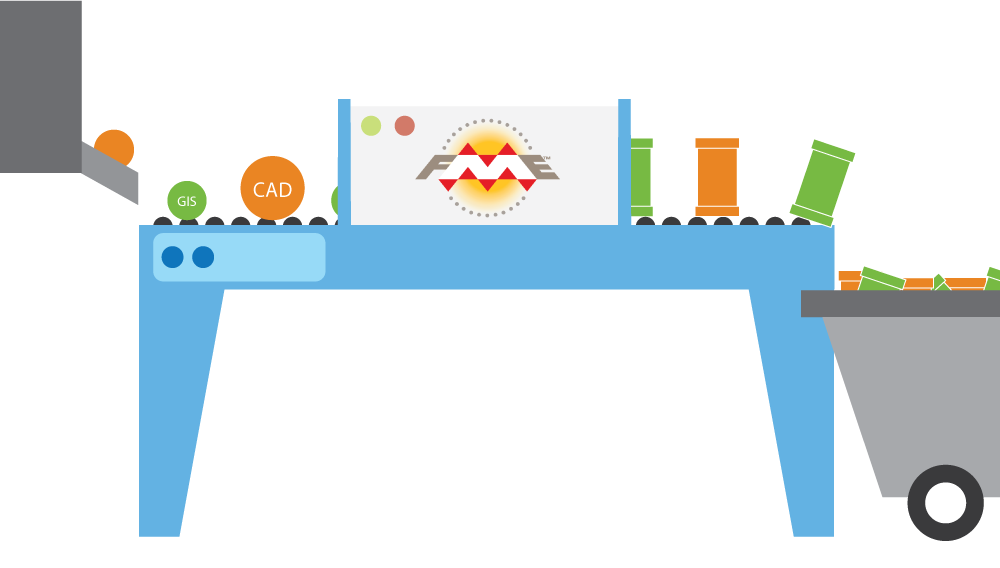 Streamline Shapefile Batch Processing
Validating vector data within shapefiles shouldn't be tedious. Luckily with FME, you can batch process shapefiles. With transformers like GeometryValidator, AttributeManager, and Snapper, you can validate, alter, and repair shapefiles with the click of a button, saving you time for more critical tasks.
Perform Powerful Spatial Analysis
Perform spatial analysis and bring non-spatial data to life by geocoding or adding coordinate systems to your data. By integrating spatial components with other sources such as tabular data, your data can be used more effectively and improve decision-making. Whether you're a company wanting to improve supply chains or a local government wishing to provide earthquake data, FME has the tools to meet your diverse shapefile needs.
---
About Shapefile (SHP)
The Shapefile format is a vector data format that stores the location, geometry, and attributes of geographic features in a set of related files.
Common Conversions
FME lets you integrate many applications and file formats. Here are some of the ways our users convert Shapefile (SHP).
Compatibility
The table below outlines how Shapefile (SHP) is supported by our different FME products, and on which platform(s) the reader and/or writer runs.
Product
OS
FME Form
FME Flow
FME Flow Hosted
Windows 64-bit
Linux
Mac
Reader
All Editions
Writer
All Editions
Try FME Form
No credit card necessary. Start integrating data today!