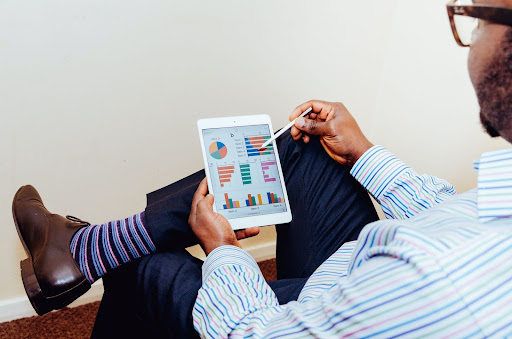 Source: Unsplash
A company wishing to leverage its business performance in a competitive and volatile environment must stake on data. An NVP research shows that only a quarter of firms put data analytics on their agenda, while almost 99% report willingness to invest in this area in the future.
One serious condition for the payoff is that you must consistently gather the data for analysis through data integration.
This post will explore the power of data integration and ways of using them for business performance. Let's start with an overview of business performance first. 
What is Business Performance?
Efficiency is a key performance concept of every business. Simply, business performance demonstrates the efficiency of a company in combined areas:
management style

work ethics and environment

customer relationship

service quality
Evaluating the business performance indicators helps determine the ratio of the current operating results to their costs. Also, you can compare them with the same indicators in the industry and the past periods within the enterprise itself. 
Business performance management sets future productive goals and rates. This includes how much time and money the company spends on achieving them and whether it is possible to obtain the same outcome with less cost. 
8 Key Business Performance Indicators
Various quantitative and qualitative key performance indicators, business performance metrics, are used to draw economic conclusions. 
Among the big list of metrics, some common and critical business performance metrics include:
Monthly Recurring Revenue (MRR) – predictable income based on existing subscriptions

Annual Recurring Revenue (ARR) – predictable income based on existing annual subscriptions

Margins – ratio between revenue and cost of production

Customer Acquisition Cost (CAC) – the amount of money that can be spent on attracting a new customer

Net Promoter Score (NPS) – loyalty metric showing chances of customer to recommend your business

Conversion rate – the ratio of converted customers to visitors

Churn rate – the number of customers who left

Retention rate – the number of users who keep using your product/service.
Data Importance and Business Intelligence
It is hard to imagine a modern company that doesn't collect data and practise data-driven approaches. Specialists who help businesses make data-driven decisions are in high demand.
The basis of business intelligence is statistical data analysis and explanatory & predictive modeling. In this regard, the indicators obtained during the analysis are dependent on the quality and volume of initial data, which is one of the main problems for many organizations. 
The level of data verification and quality of the conclusions increases with the preliminary integration of the collected data.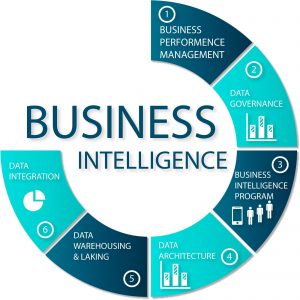 Source: Ostaraward
For example, website visitors' data details the portrait of a potential consumer. This information helps to anticipate the audience's expectations and find out if they are interested in your product, as well as dress up advertising messages in the right form. 
The next step of data-driven decision-making is an analysis that helps companies capture market trends and determine the direction of development, such as exploring new regions or arranging extraordinary sales. This will help the company decide on a marketing strategy and increase profits.
Data Integration Essentials
There are two essential aspects to consider when dealing with the notion of data integration:
Data and information are not the same, whether it's raw data, Big Data, etc. 

These data types are just random items on a grand scale without the correct processing. Once they are integrated, structured, and presented in the proper context, they become information.
In addition, beyond the data integration techniques necessary to combine sources, there must be a strategy to maintain data integrity steadily.
Data integration techniques 
From a technical perspective, humanity has produced more than 44 zettabytes of data, which means that there are 40 times more bytes than stars in the universe. 
Such an abundance can drive somebody into a panic in the absence of a well-thought-out plan for integrating data. 
At this rate, the mission of teams working with data management and iPaaS becomes increasingly important. Most of these specialists choose to follow a data integration model. 
Usually, they have no consensus on the best data integration techniques, but almost always, an integration will cover three key stages: data extract, transform and load. Three main agents are involved here:
Data source (to extract)

Data integration (to transform)

Target database (to load)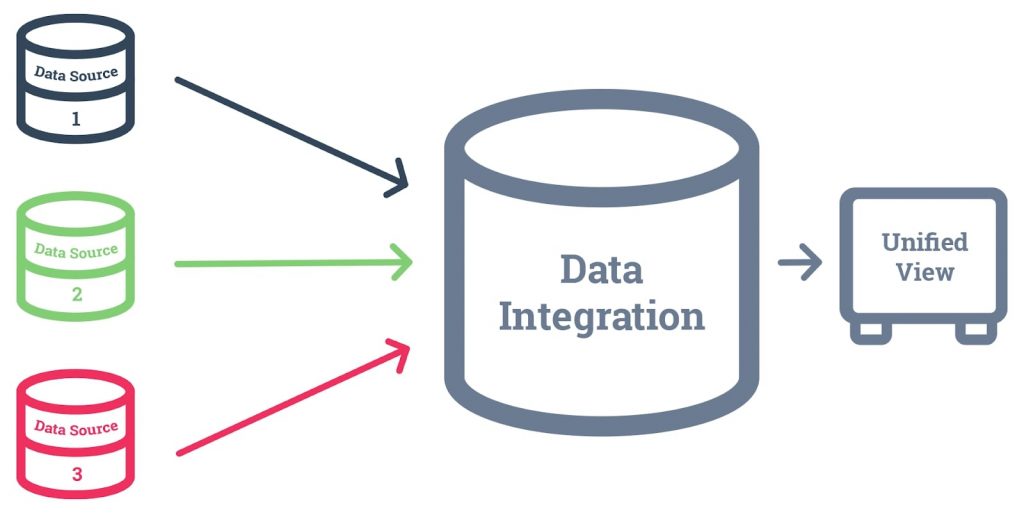 Source: Hurree

Application integrations include external applications, data services, enterprise applications, unstructured files, and/or cloud applications. 

Cloud applications are among the most popular, as they are easy to integrate through their API. Read more about APIs here.

The data integration strategy can be presented simply through a few elements:

Access to information: it is about accessing information regardless of its location, be it the cloud or physical servers in various places.
The retrieval and aggregation of data: it is about building links between the information located in one source and that of the different source. It is called mapping. 
Data extraction: this refers to specialists being able to access the processed data when they need it.
Data Integration Platforms
Along the way, you will find many options to perform data integration, but you must make sure that the one you choose suits you best. FME is the only enterprise integration platform with comprehensive support for spatial data. Before deciding, the first two considerations to take into account are the size of your business and the types of databases you build.

Companies typically have their own data centers and applications hosted on the premises. These may be local servers, or third-party service providers focused on business solutions. Additionally, SMEs regularly choose cloud-based applications to store data and opt for iPaaS to integrate them. 

Large companies have their own data centers curated by the integration solution of their IT teams. They use an enterprise data integration platform when using cloud-based applications or a combination of on-premises and cloud-resident endpoints. Utilizing this type of service makes it easy to share large data sets and select new vendors when needed.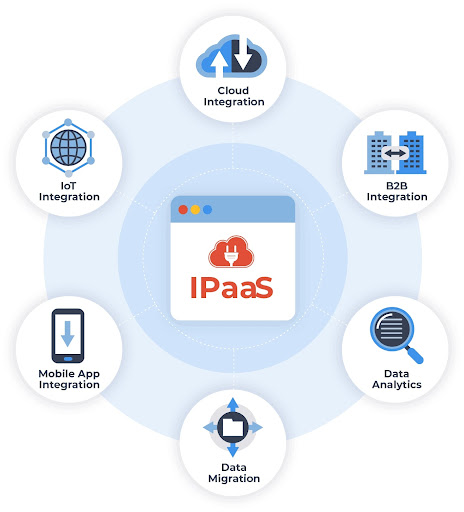 There's also an option to use FME for connecting applications, setting up automated workflows, transforming data, converting data types, and validating data quality.

FME can handle different data types and support application-to-application, business-to-business, or mobile application integrations. Such data integration platforms are backed with vendor-exclusive technical support and high data security standards.

While most data integration solutions specialize in solving a specific set of problems, say, transferring records between CRMs, FME allows making all possible data manipulations to make data-driven and timely decisions.  

Check out FME customers who already benefit from implementing FME within their organizations.
Top 3 Data Integration Challenges to Avoid
Before we describe how data integrations help businesses, it is crucial to recognize challenges. Below are 3 the most common data integration challenges to be aware of.
Low-quality data
It seems obvious, but the most significant data integration mistake can be traced back to failures around outdated, irrelevant data entered manually by different agents in incomparable formats, which worsens the possibilities for their integration. 

Poor quality data, one of the main consequences of failed data automation, directly impacts business activity and profitability.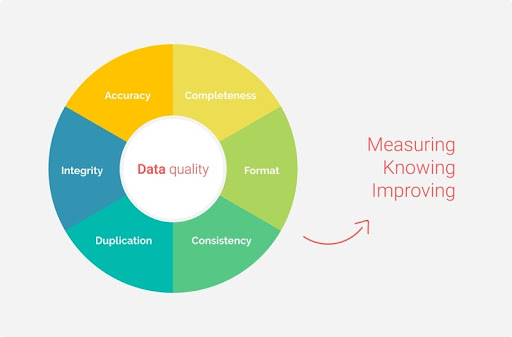 The solution sounds simple yet may be challenging to accomplish quickly. First and foremost, clean your data, choose a unified data format, and appoint the responsible person/team.
Too many data sources
Another prevalent mistake is assuming that data integration technology has no latency. That is never the case. 

Enumeration of external data sources entails working with many connectors that can conflict with each other and are definitely a more expensive solution than a unified integration system.

To deal with this, avoid simultaneous data integrations, make data backups from several sources in one place (SQL/spreadsheet), and carefully choose data integration platforms. As we mentioned, FME can be a solution to data sourcing problems.
No data management plan
Manipulations with data remain just chaotic manipulations. It does not work without an agreed roadmap for metadata management. 

Each employee involved in data processing must understand the rules of data manipulation, align with the data management plan and data processing policies. They also have to deal with compliance issues and laws that determine how information should be managed efficiently.
6 Ways Data Integration Boosts Your Business Performance
Data helps businesses win. Here is how:
Keep data in one place
Data integration can make working with data easier by keeping it all in one place (or in a unified way). With FME and its data transformation ability, you can shape data, unify data formats, and reach data consistency. With the data unification, you're able to continue with data integration for maximum efficiency.

You can synchronize all databases, spreadsheets, or other platforms where you collect your already transformed data. For example, you may need to transfer your records from your account at Airtable to Excel, export CRM's records to data visualization platforms, back up data from a CMS to BigQuery, etc.

Also, you can reduce data duplication by keeping all your information within one integrated system. You should bring information from spreadsheets, highly structured databases, social media reports, diagrams, white papers, and a wide range of other sources together for comprehensive insights into operations.
Improve financial data management
A comprehensive data integration plan lets you view and manage critical financial and operational information from easy-to-use dashboards that integrate all financial and business data into one single platform. 

Any quality financial management system will include basic accounting functions that allow you to track income and expenses, assets and liabilities, and amortizations to generate accurate financial reports. 

Thus, accountants and executives can access valuable data from across the organization to improve the accuracy of budgets, reports, and forecasts, thereby improving financial decisions.

Shape clearer human resources picture
Unifying data across communication platforms enables organizations to leverage different types of data to maximize the resulting potential. 

This transparency can extend to both internal and external stakeholders, driving collaboration within the company which benefits the human resources department.

Even in an HR environment, there's a lot of data to consider, including 360-degree employee reports, executive summaries, feedback sessions, employee satisfaction, and other metrics. 

Smart data analysis will help use the skills of employees in the field more rationally, and make objective decisions based on numbers instead of personal impressions.
Enhance marketing analytics
Your marketing strategy should be driven by data about competitors, market dynamics, customer behavior, and campaign success. You should update as frequently as possible in response to new data as it becomes available. 

By collecting and analyzing all of your marketing tools and channels, you can identify the best time, place, and way to market and promote your business. For example, collect data from social media, email marketing software, CRMs and CMSs, and other platforms, and you'll obtain a clear picture of your marketing analytics.

This also allows you to determine where you may need to invest more resources to make your marketing program more consistent.

In general, marketers use marketing analytics empowered with data integrations in their field to:
leverage CRM data processing

make UX/UI improvements

visualize and report insights

predict customer behavior

personalize marketing campaigns

experiment with marketing tactics

adjust marketing strategy
Save time and resources
Business intelligence professionals face an overwhelming workload trying to sift through the huge amounts of everyday business data. 

Giving teams direct access to relevant information leaves analysts with one less thing to worry about. This frees them to focus on more complex and demanding data sets that drive business value.

After all, without data integration platforms, even the most ordinary business report will mean manual processing of all sources, writing code or automatically transferring data to the database, and laborious systematization of the resulting mess. 

Not to mention the need to control and revise possible human factor errors. Integration automation will eliminate this at one stretch.
Establish a data-driven company culture
Giving users access to key data embedded in the apps and services they use enables them to make better decisions when interacting with customers and partners. 

The general transition of interaction between different departments within the company to data-based paths contributes to a more intelligent adoption of business decisions.

The data-smart approach will put your company in line with the leading business organizations, and data-empowered employees will keep up with the challenges of the new times. New hires will easily enter a structure with transparent policies and unified work with data.
Final words
Regardless of the size of your company or the resources behind it, processing and managing data the right way will enrich the view of your business and customers. 

Try out FME for your business needs! It is a cost-effective way to access your business data, keep it updated, obtain insights for your business growth, and make the best data-driven decisions. Empower your data with FME today!

Don't wait any longer and start data integration within your company. If you already have made first steps with data integration, share your experience in the comments below.
Data is an important asset in every business. Working with data can be challenging, as covered in this article. From low quality data to data from too many sources or in too many formats, these are challenges that organizations face today. Nonetheless, FME can turn data into insights to better serve modern customers. The FME Platform powers business decisions with enterprise integration and no-code automation. Spend more time using data, and less time fighting it. Empower your business with data today!
You might also want to read:
Automating an Auction with FME Server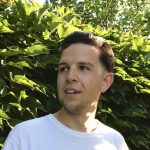 Dmytro Zaichenko
Dmytro Zaichenko is a Marketing Specialist at Coupler.io, a data integration tool. He has 7+ years of experience in content making. Apart from writing, he's passionate about networking and the NBA.