43:95
Is it a coordinate? A movie reference? Strip "The King" Weathers is 43 and Lightning McQueen is 95. But that's just a coincidence. The answer? In a recent survey of FME Community members:
43% said that they had already used FME to help a non-profit or charitable organization. 95% said that they would use FME to help a non-profit or charitable organization, if the opportunity arose. The numbers show that FME is a great tool for helping others, whether you're an individual FME user looking to volunteer or already employed by a non-profit organization. FME can be used for non-profit data integration and non-profit data management.
Non-Profits, Non-Profit Data, Non-Profit Data Integration & Management
FME is a Data Integration tool. To put it simply, data integration is about making your data available to the right people in the right systems and structures. FME is how customers all around the world transform, convert, integrate, automate, and validate their data and data processes.
I know that non-profits are no different to other businesses because I've been a board member for several non-profit organizations. Like other businesses, non-profits have a lot of information stored in different places, in many different ways. They need to be able to perform non-profit data integration, non-profit data management and use it to plan for the future. They need FME too!
FME Licenses for Non-Profits
Safe Software (the makers of FME) offer free licenses for a number of scenarios. However, the relevant one is the Research and Non-Profit Grant Program for us.
We supply licenses on a 12-month project basis and evaluate applications based on how your work will benefit society or the environment. Nonetheless, fear not, our application process is definitely not the nightmare familiar to all non-profits! You won't need to hire a grant writer or craft a ten-volume proposal. Take note that we'll respond in around 5-10 days though!
Resources for Non-Profits
For long-term learning consider using the FME Academy. The FME Academy provides training modules on a variety of FME skills. Each module has a small quiz to help you retain the information. You can also win virtual badges by completing modules.
Alternatively, you can use the FME Knowledge Base. The FME Knowledge Base has a number of articles pertaining to FME functionality and systems. It also has small tutorials to demonstrate certain techniques. Despite this, no quizzes or badges though, I'm afraid!
The knowledge base works well for short-term questions on a particular subject. There are a number of other resources too. Firstly, there are the FME technical forums where many users and FME experts, who are knowledgeable about non-profit data integration and non-profit data management, will be pleased to help.  
Quick reminder: don't forget the FME Community exists in more than the technical forums. You can find users in all sorts of places such as Twitter, Reddit, and Slack groups. #FMECommunity
FME User Volunteering & Licenses for Volunteers
If you're already an FME user you may already be using it to do good in the world. If so, thank you! As we saw, 43% of community users answered that they already use FME to help non-profit organizations. FME is undoubtedly a tool for non-profits.
If you don't already volunteer, it's something worth considering. In my own experience, smaller non-profit groups lack IT skills of all sorts. Your help with juggling non-profit data FME to produce magical results in next to no time is welcomed with open arms. Remember, non-profit data is still data! FME is here to help non-profits maximize the value of their data too. FME is also a platform where non-profit data management can take place.
Some users volunteer for organizations that already have FME or help organizations get an FME license. However, occasionally, users just want to help their favourite local charity with a small data transformation or translation. You can do that using an FME home license.
FME home licenses are available to all users. Users can experiment with new features or carry out personal tasks. Any personal, non-commercial use is permitted. That means tracking hikes or an occasional job for a local organization too! If it becomes more permanent, sign up for the Research anNon-Profit Grant Program. 
Resources for Volunteers
You can ask for help in the FME technical forums, take Academy courses, or learn through the Knowledge Base as mentioned above.
Still thinking of volunteering? Answering questions on FME forums is a good place to start. You could even post that you're looking for a non-profit to help out, and see who needs non-profit data integration or non-profit data management help.
Use Cases of Non-Profit Data 
Let's look more specifically at what you might do with FME in a non-profit.
Non-Profit Data Management and Analysis
I can't think of any organization that doesn't have either a list of clients, supporters, or employees. At the very least, FME is able to manage a list of people and addresses. FME can be used for merging different sources or separating a master list into several spreadsheets based on a particular characteristic. 
FME is also very good at turning address records into actual map data. This allows you to see not only "who", but "where" your supporters are. For example, you could create a map showing how many supporters live in a certain area.
On the other hand, you could stick to tabular data. I personally use FME to generate operating statistics for our local food bank. This helps plan next year's budget. I also know of users who used FME to help run fundraising events. Once you have the skills, so much is possible. FME helps non-profits unlock the limitless potential value of your non-profit data. FME is a platform for non-profit data integration and non-profit data management.
Community Mapping
Community mapping is all about creating maps at a local scale. The maps are intended to show what is most important to that community. These are mapping community assets. 
FME makes it easy to take existing statistics and apply them to a map. If your local government has an open data portal, you'll often find a series of map datasets available. They usually come with support for [XXX] formats. FME is almost certain to be able to read and process that data for you.
For example, here's a map of Winnipeg, Canada displayed on Google Earth. It shows known areas of poverty in the city.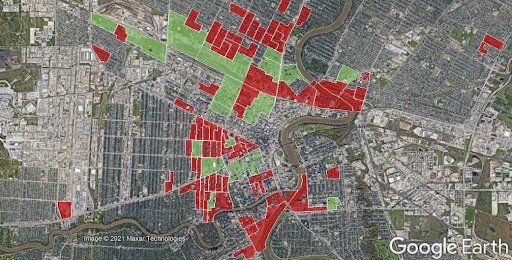 These areas are colour-coded according to whether they have recreation facilities in the area (green = yes, red = no)
3D and Indoor Maps
Not every non-profit will need to use 3D or indoor maps. It's most common when the organization is responsible for a large building of some sort, such as an art gallery or a university campus. FME can help to transform boring 2D drawings into indoor mapping suitable for use in Apple Maps or help to create stunning 3D models.
For example, our local arts gallery is located inside a heritage building. I was able to take existing plans such as this: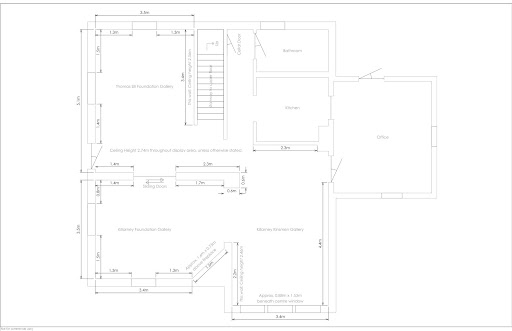 …and use FME to convert them into a 3D model: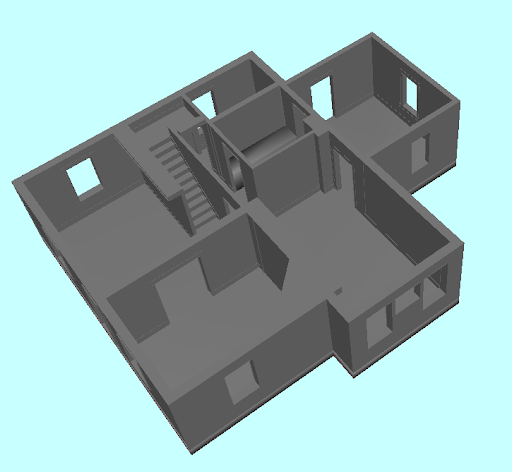 …which could then be used as a virtual gallery. This can be shown on a computer, device or in a virtual reality headset.
FME can do SO much, so easily. Any organization or business is limited only by their imagination. There's definitely a lot more to FME than data integration.
Conclusion
So with all that in mind, there's nothing stopping you from using FME to help make this a better world. As an individual you're encouraged to share your FME skills with non-profit organizations. As an organization you're encouraged to apply for an FME license and to ask for the help you need to use it. FME is a data integration tool for non-profits. Make most out of your non-profit data.
But why FME specifically? FME is the Data Integration platform with the best support for spatial data, worldwide. What does spatial mean? It means maps and geography. If you want to analyze data in a way that isn't just "what" or "why", but also "where", then FME is the platform for you. Here are other ways that we have been helping our communities beyond the FME platform as well:

If you do use FME already, share a case on social media this month, with the hashtag #FMEforGood! We'd love to hear them!
You can also join the FME community as we've mentioned above. This month, we have a FME for Good-themed community event. Join in the holiday and community spirit with Safe Software.

Mark Ireland
Mark, aka iMark, is the FME Evangelist (est. 2004) and has a passion for FME Training. He likes being able to help people understand and use technology in new and interesting ways. One of his other passions is football (aka. Soccer). He likes both technology and soccer so much that he wrote an article about the two together! Who would've thought? (Answer: iMark)