Data is everywhere now but how do we make sense of the data we have? From gathering data from different sources to ensuring data quality for your enterprise, there are many data challenges that enterprises need to overcome. Data has to be accurate and relevant to make full sense of it. This is why data integration is integral.
This is where the FME Accelerator comes in handy…. The one workshop you need to attend to unlock the amazing potential of your data in 90 minutes! No coding experience is needed.
Many companies need to make important real-time, data-driven decisions that will drive your business and take it to the next level. The FME Accelerator can help you and your organization achieve the next level.
Many people are also taking the opportunity to learn skills online these days. The FME Accelerator offers the opportunity and benefits of online learning – enroll in the FME Accelerator and learn from anywhere!
[Further Reading] 7 Spatial Databases for Your Enterprise (in 2021)
[Further Reading] How to Make Better Business Decisions with Data
[Further Reading] Why Enterprise Integration Patterns Are Relevant to Your Organization
What is the FME Accelerator?
The FME Accelerator workshop will give you an overview of what FME is, how to integrate data with FME and how to avoid data bottlenecks. This is not another online course for beginner coding. In fact, no coding is involved at all! FME is a code-free platform. The FME Accelerator is a free and interactive workshop for beginners or FME users who are looking to sharpen or refresh their FME skills. 
The main objectives of the FME Accelerator are to:
Identify data challenges within your organization and formulate solutions based on your challenges.

Understand how FME can solve your data challenges. Make the most of your data, and less time fighting it with FME.

Gain hands-on experience with FME and have the chance to ask FME Experts questions from anywhere. Get started on the right path!
This workshop will take place online on Strigo. Strigo is not just any online learning platform. In addition to asking questions, with this virtual training platform, instructors can guide you better with exercises prepared to set you up right with FME. In the virtual classroom, we will also cover the basics of using FME to integrate, automate and connect your data.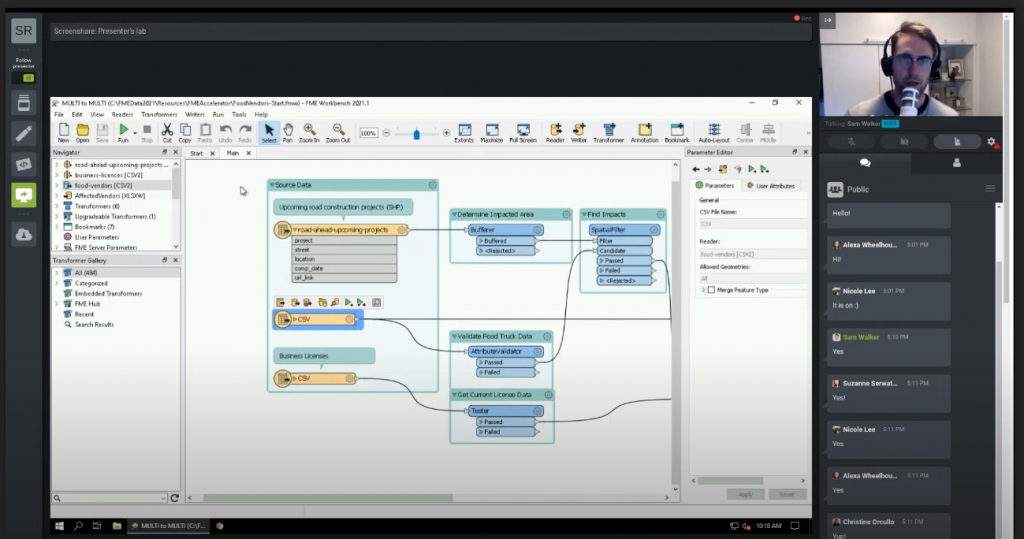 You do not need FME or Strigo installed prior to the workshop! We will provide FME and a link to use Strigo in your browser for you. Come with fascination and a desire to learn, we'll take care of the rest! 
Reasons to Sign Up
1. Learn to maximize the value of your data 
Having trouble with data silos? The FME Accelerator workshop will teach you how to wave goodbye to them. This is a 90-minute overview that covers the basics of the FME platform. FME has built-in support for hundreds of formats and applications as well as transformation tools. This allows users to build and automate custom integration workflows without having to code. Get started on making the most out of your data with minimum effort with FME.
2. Explore FME with a hands-on, online experience
This workshop is fully interactive and hands-on. You will explore the most relevant features of the platform. This gives you a strong understanding of how FME can benefit your organization. Your instructor will guide you through a realistic scenario to showcase the power of the platform. If you have any trouble, our team can directly assist you through Strigo's virtual lab software. 
3. Ask FME Experts your questions
Our knowledgeable team will be online at the same time. They will be ready to answer your questions. Feel free to ask questions about the workshop content or anything related to the world of FME. The FME Accelerator is an opportunity to truly understand the platform and how it can help you with your industry's data challenges. A true benefit of online learning with Safe! 
4. Open to everyone. No coding experience required!
From those beginning their FME journey to users refreshing their FME knowledge, all attendees curious about FME will get value from taking part in this workshop. In fact, we'll start from the very basics to ensure you understand how FME can help you. During the 90 minutes, you'll explore a brief overview of data integration, delve into different parts of the FME platform and then take on a hands-on exercise. The best part? You'll walk away with knowledge and will be on your way to becoming the data superhero that your organization needs. Once again, no coding is required for the FME platform so you won't need any coding experience to jump on this. 
5. Free! Yes, online learning with Safe Software doesn't cost you anything. 
Last but not least…. It's free! Yes, you don't have to pay a dime to enroll in the FME Accelerator! Ah… the benefits of online learning.
And that's the FME Accelerator, explained! Sign up for the FME Accelerator and advance your data integration skills with FME. Upcoming dates include:

You do not need FME or Strigo installed prior to the workshop! We will provide FME and a link to use Strigo in your browser for you. Come with fascination and a desire to learn, we'll take care of the rest!Are you already familiar with FME and looking to improve your FME skills? An upcoming training course might be more appropriate than the FME Accelerator.Need more tips and resources? Our FME Academy, FME Training and Webinars can also help you with your FME and data integration needs.