As said best by one of Safe's co-founders, Dale Lutz, "do good when you're doing good." These have been the guiding principles of Safe's corporate giving philosophy and ecosystem since the inception of our organization in 1993. Over the last year, these words have never been more important to Safers.
Safe's corporate giving philosophy saw an emphasis last year on supporting causes with one central theme: local families. We care about our surrounding community and how the pandemic has uniquely affected those around us, so we've taken action to provide our support to individuals and families in need.
As the company has grown, so has the diversity of charities that we've become aware of. While researching and learning what the biggest needs in our community were in 2020, we discovered just how many great initiatives and programs exist to help people facing a diverse set of challenges. From our findings, we identified two themes which we focused our charitable giving on last year: hunger and health.
We learned that more and more families in our community were going hungry due to job losses, a slowdown or halt in supportive programming, and many other challenges. Further, with the severity of the pandemic, we felt that health was an important theme to focus on in order to do our part in promoting health within our community.
To address hunger in our community, some of our Safers brought several meal programs to our attention. These included local groups like
Backpack Buddies
and the
Surrey School District's Breakfast Club
which focus their efforts on ensuring kids don't go to school hungry. Since late 2019 we have been providing funding to these meal programs so children have access to the same nutritious meals they would have received in school while learning remotely from home. To date, Backpack Buddies has provided over 49,000 bags of food to hungry children across the province of BC and we hope to continue to do our part in supporting their efforts.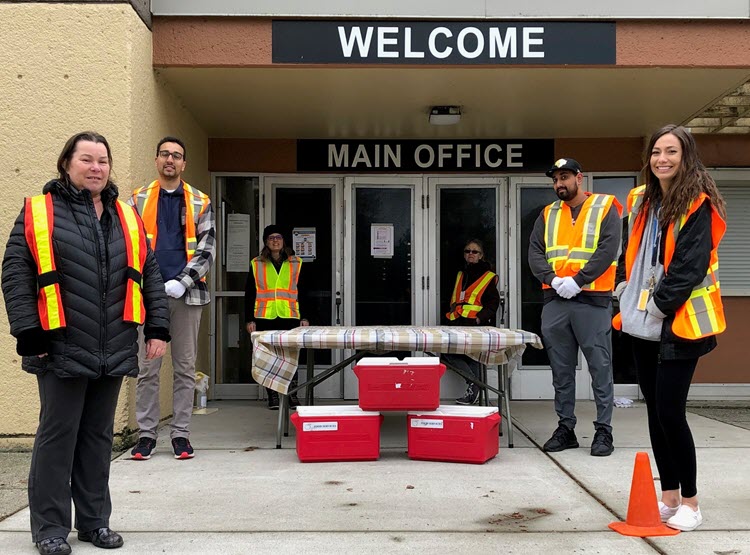 Volunteers of the Surrey School District's Breakfast Club.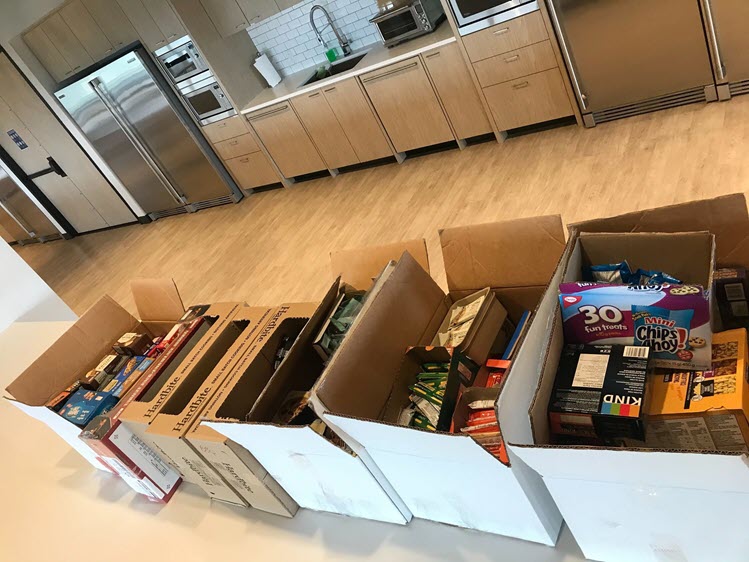 Food donation boxes collected from Safe's office kitchen pantries.
To support our broader Surrey community, we looked inward to our team. During the holiday season, we organized events, including an internal IT auction, Holiday Raffle, and non-perishable food drive. These events helped raise both monetary and non-perishable food donations for the Surrey Food Bank. Additionally, at the onset of the pandemic, we emptied our office kitchen pantries to provide filled boxes of non-perishable foods for the Surrey Food Bank. We chose to support the Surrey Food Bank at the outset of the pandemic as they are located in the heart of our community and were able to effectively distribute the surplus of supplies we had available from our office.
In addition to our 2018 contributions to the
Surrey Memorial Hospital Children's Health Centre
, we are now a sponsor of one of four overnight Ronald McDonald Family Rooms at Surrey Memorial. These rooms provide clean, on-site facilities for families who have children undergoing treatment with a comfortable space to stay nearby. This helps to eliminate the stress for those who have to commute from areas across BC for treatment.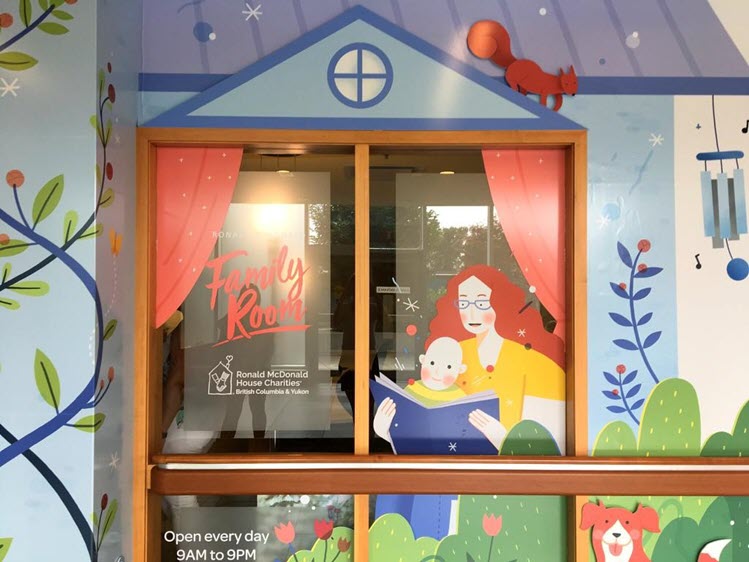 Together we hope we can inspire others to help make a difference, lead by example, and lend a helping hand to those who need it most.
Do you have an idea or recommendation for initiatives that Safe should support? Leave us a comment below and let us know how you or your organization has been making a difference in your community.

Amanda Chew
As the Channel Marketing Coordinator, Amanda works with our partners to keep everyone on the same track. She is a big fan of avocados and even has some mini-avo trees in her office! When she's not in the office or eating avocados, you might find her kicking back and playing D&D with her friends.

Samantha Ng
Samantha is a Senior HR Generalist at Safe who is passionate about building connections within her community and emphasizing the "human" aspect of Human Resources. When she's not working, you can often find her diving into something crafty to express her creativity-wired brain or cradling a cup of coffee to keep her energized throughout the day.