FME 2020.2 provides the conclusion to our core development efforts in 2020, providing a tidy set of usability enhancements and the addition of format support that reveals some exciting new capabilities that are coming in 2021.
At Safe, we're responsive to our customer's requests, and we value your insights into how we can make FME better – telling us what you'd like really does make a difference! Be sure to submit your thoughts to our Ideas Exchange.
To see everything that's been added to FME 2020, visit the new features page.
Usability Enhancements
FME Server, FME AR, and FME Data Express received enhancements that give you more control over your experience.
FME Server Automations: Failure Output Ports on Triggers


In FME Server Automations, new failure output ports on each trigger allow you to determine how your Automation workflow will run if the trigger fails. This means action can be taken automatically, without the need for constant watch over the workflow.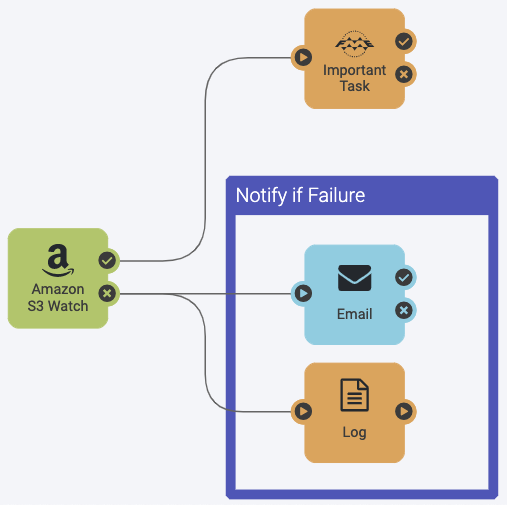 FME AR 1.6.0 (iOS)

Geolocated Model Stability


When you use device location sensors to load a geolocated model at its true placement on earth, the sensors continue to attempt to make the location more and more accurate. This was causing models to unintentionally shift. Enhancements in 1.6.0 (iOS) have stabilized the models.

Anchor Handling


Detect plane elevation and use improved model anchor elevation with your anchored, geolocated models for a better user experience.

Compass


View your model footprint alongside a compass embedded in the app so you can see the model's orientation in the real world.
FME Data Express 1.4 (iOS & Android)

Satellite View Map


A new satellite view map is now available for the Location Picker when selecting the geometry parameter. 

Map Scale & Zoom Level


The initial Location Picker map zoom level has been improved to better serve your needs. As you make adjustments, your zoom level is preserved for when the map is reopened.

Repositories Search


We've added a search bar in the Repositories page to make it easier to find what you need.
FME Workbench: GML Writer Has XML Appender Mode


The GML writer now gives you the ability to use XML Appender mode. This gives you increased flexibility and greater control when writing to more complex schemas.
Bonus: Esri ArcGIS Data Interoperability Extension can publish workflows to FME ServerAs of ArcGIS Pro 2.6, the Esri ArcGIS Data Interoperability Extension, which is powered by FME technology, can publish workflows to FME Server. Note that this feature is only available when the FMW workspace is not used in an ArcGIS Pro Spatial ETL tool. If you need any support, it's provided by us at Safe!
New Application Support
With every release, we ensure to include enhancements, bug fixes, and new features to the 450+ applications we support. This release, a few highlights are:

ArcGIS Portal
This summer, we released the ArcGISOnlineConnector in the FME Hub. We featured it in a webinar, and immediately received multiple requests for ArcGIS portal support. We've answered!

Now you can create an ArcGIS portal web service following the template provided in FME, and use it to create an ArcGIS portal web connection. You can even access your portal content when the web connection is specified in the ArcGISOnlineConnector. To get started, read this FME Community article.

(The webinar, 6 Ways Data Integration Enables You to Do More with ArcGIS Online, was so popular, we re-ran it recently with a live Q&A. If you missed it, you can check out the recording on-demand here.)
Shopify
Sometimes customers ask if we can support a system that may not necessarily be on our radar, and we think it'd be fun to experiment a little. This innovative way of thinking has brought us Shopify support in the FME Hub Safe Lab.

Businesses who use Shopify to build their e-commerce website, manage order and inventory, and process payments, can now use FME to manage their product catalogue using the Shopify API. Using FME, you can automatically upload products, manage inventory, and update images of products. This enables you to synchronize with other systems you use, automating your workflow from end to end.

Find out more in this Community article to get started.
FME 2021.0 Sneak Peek: Event Stream Processing
Here is your sneak-peek into an exciting set of development efforts coming in 2021. We are setting the groundwork for a better user experience supporting event stream processing (ESP). 
The new offering will enable you to integrate streaming data using event streams for continuous, real-time data processing. This provides an alternative to the bulk/batch workflows that are already simple to automate using FME. 
Real-time stream processing is ideal for streams of any volume, from low or sporadic to dedicated high volume where low latency is a requirement. This is because it enables streaming data to be processed before it's stored. With this approach, you can summarize organize data by time stamps and ensure that unneeded unwanted detaildata can be filtered out immediately before it's used or written out to a data warehouse or BI platform.
In short, FME 2021 will make it even easier to integrate IoT and streaming data.
As part of this effort, we've released support on the FME Hub for Kafka, SQS, Google Cloud Pub/Sub, and most recently the MQTT protocol with a set of IoT connectors to integrate seamlessly with cloud-hosted IoT services, including:
---
Get FME 2020.2 on the downloads page.
See the full list of updates on the FME 2020 new features page.
We'd like to hear from you! Tell us what you'd like to see in upcoming FME releases in the Ideas Exchange. 

Erin Lemky
Erin leads the Product Marketing team at Safe Software and enjoys connecting people with the information they need. As a Ravenclaw, she is always seeking knowledge that can help customers improve the world with their innovation. After work, she can be found tending to her permaculture homestead or reading a fantastic adventure with her family.