A medical emergency happens in a suburban home in California. Someone in the household calls 9-1-1. An ambulance is dispatched to the address. But what happens if the dispatch system contains an incomplete address database? What if there are two different entries for 518 Crestview Drive, or there is now an entire subdivision on that lot?
For a county as large as Santa Clara, which has a population of 2 million, creating a complete and correct address system for 911 dispatch was a challenge. The county encompasses many cities, all of which maintain their own address datasets, schemas, and workflows.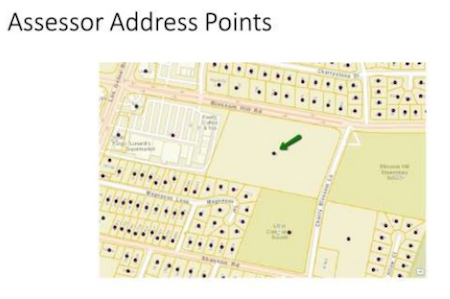 A problem in 911 dispatch systems that use parcel address points is that they often have a single data point for a property that actually contains many dwellings.
Building on their existing system, which incorporated GIS parcel address points into a system that pre-dated GIS, Santa Clara's IT department had the goal to enable cities within the county to contribute addresses directly. This would:
empower local cities,
lessen the burden on the county to maintain the system,
create a comprehensive, precise system to give citizens timely emergency services.
Maintaining an integrated map of addresses
Santa Clara's IT department wanted an integrated, up-to-date map of address points that every city within the county could contribute to on a regular basis. Such a map would facilitate multi-jurisdiction data sharing and ensure all address points stay accurate and complete.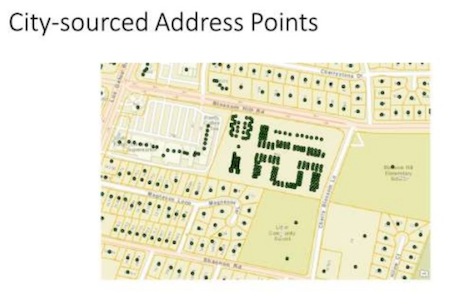 In the ideal emergency dispatch system, local cities can contribute addresses to an integrated dataset that's complete, correct, and precise.
Using FME, the IT department integrated datasets from fifteen cities within the county and supplemented them with public safety layers. They used FME transformers to identify quality issues like duplicate addresses, and from the same workflow, they generated multiple output formats, like GeoJSON for use on the web.
"FME allowed me to make fast iterative changes to workflows as each city's data turned out to be a discovery process where something unexpected always occurred. This flexibility better prepares me for upcoming changes that may be necessary for Next Generation 911."

– Steven Hong, Santa Clara County, FME World Tour 2019
The result is the Regional Address Map for Public Safety (RAMPS) and the Regional Address Map (RAM; non-public safety), which are unified maps that allow cities to contribute addresses on a quarterly basis. This innovative solution, which consolidates Santa Clara County's addresses while still allowing each city to maintain their own schemas and workflows, fits one of the main GIS bases of Next Generation 9-1-1
In the end, the benefits of this new system are boundless. With a 50% increase in the number of addresses available to 911 dispatchers, emergency services are able to pinpoint their destinations more accurately, get there faster, and potentially save more lives.
Synchronizing data across jurisdictions is just one way that local governments use FME to facilitate operations. Read more in "8 Ways Local Governments Can Improve Operations Using Data Integration".
Learn more about FME for Local Governments

Tiana Warner
Tiana is a Senior Marketing Specialist at Safe Software. Her background in computer programming and creative hobbies led her to be one of the main producers of creative content for Safe Software. Tiana spends her free time writing fantasy novels, riding her horse, and exploring nature with her rescue pup, Joey.