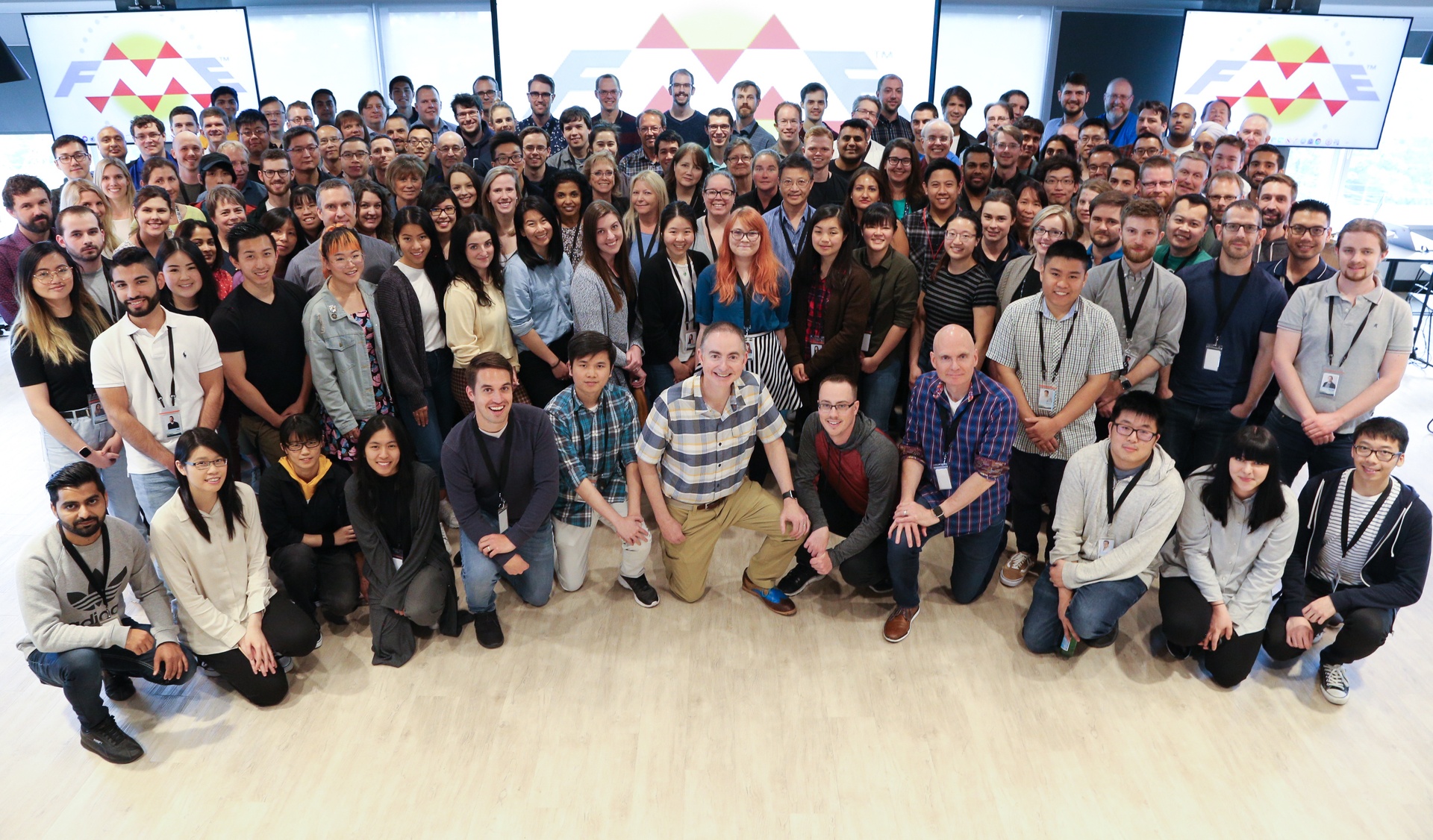 At Safe Software we believe "It is all about the Team" — and an amazing team it is.  We are a passionate group that cares deeply about helping our customers, partners, and each other to succeed.
While on vacation, I had time to reflect and was thinking about how lucky I am to get to work with this amazing group and what makes them so special.
For those who have visited our offices or met anyone from Safe during an FME World Tour or at a trade show, you will have immediately noticed that we have fun, we laugh a lot, we enjoy what we do and we truly enjoy each other.
Aside from our friendly faces and love for what we do, I am sure you also noticed that there is nothing else that is common to describe a "Safer".  In a word, Safe Software's team is one of diversity, and that makes it so much fun.
Of course being located in Greater Vancouver, Canada is a huge blessing for us, as diversity is also part of what makes Vancouver special.
Diversity at Safe
Our goal at Safe has always been to create a welcoming place for everyone, where our entire team can do great work while having fun. It is a place where we forget about our troubles and challenges for 40 hours a week.  In short, we want Safe to be their "safe" place to escape from the world and focus on making a difference.
Diversity is about celebrating each person's individuality and empowering them to share their own perspectives. When I started thinking about all the different types of diversity, I was surprised by how many there are.  At Safe we strive to provide equal opportunities and celebrate our diversity in terms of:
Gender. 

Gender and high tech might be the most talked about diversity topic.  Not only do we strive to embrace this for balance and equality, but we also fund STEM/STEAM programs that encourage youth and young women in particular to get involved in the sciences. We work closely with SFU and sponsor

Technovation

.

Age.  While often overlooked or not even considered as a diversity topic, this one is also important. By effectively marrying the exuberance and energy of youth with the experience and wisdom of age, we all benefit.  For myself, I can't imagine any seasoned veteran not being inspired by getting to work alongside energetic and excited young people which is why we offer internships at Safe.  At Safe, our ages range from 19 to mid-60's. 
Religion.

 Part of our corporate culture is to build a workplace where we accept and accommodate those of different faiths and beliefs.

Orientation and gender identity.

  The team at Safe has always been an accepting group, one that supports equality and respects each other's identity.  How a person identifies has no bearing on contribution or value at Safe any more than hair color (or lack of hair, for some of us) does.

Heritage.

 Being located in Vancouver, we have team members from all over the globe: Asia, Australia, Europe, Middle East, New Zealand, North America, South America and South East Asia.  Aside from being fun, cultural diversity is an asset contributing to a vibrant, creative, innovative workplace.

Physical ability.

  We recently moved to a

new office location

and did our best to make sure our work environment is accessible for people of all physical abilities.

Socioeconomic status, cognitive diversity, and other factors.

  No matter who you are and what your background is, we want all Safers to feel empowered and accepted! From the hiring process to everyday life at the office, we strive to create a respectful and inclusive environment.
The Benefits of Diversity
Our focus is always about building the best team possible.  At Safe we strive to recognize, respect, empower, and celebrate all people.  Embracing our differences makes Safe better and more balanced, and it also makes all of us at Safe better and more balanced.   
Because of our diversity, we make better decisions. People with different backgrounds have  different perspectives. The more perspectives that are brought to challenges, the better the resulting decisions are likely to be.  We also have the opportunity to learn and understand those perspectives.
We believe that by embracing and celebrating diversity at Safe we are able to make the world a better place.  Building trust, respect, and understanding among our team, our partners, and our customers can't help but lead to more respect in the world beyond the office walls.  We strive to set the bar high for equal opportunities not just within the office, but everywhere in our community.
These beliefs spill over into how open and friendly we are to our customers.  The Safe "restaurant model" is indeed open, accepting, and friendly to all. Our customers feel our authenticity and the result is that we have a great, loyal base of customers who we often refer to as friends.  
The team at Safe is also happier working in an environment that is accepting and non-judgemental, where everyone is equally empowered and recognized by the great work they do.  
In short, we embrace our diversity at Safe and it is a driving tenet of "It is all about the Team", as diversity is what it takes to make a strong, well balanced, effective team in the world today.   
It is our diversity that makes Safe what it is — a fun and rewarding place in which to work. From our team, to our partners, to our customers, we are all better because of our diversity.
Learn more about what it's like to work at Safe and view our job openings at safe.com/careers

Don Murray
Don is the co-founder and President of Safe Software. Safe Software was founded originally doing work for the BC Government on a project sharing spatial data with the forestry industry. During that project Don and other co-founder, Dale Lutz, realized the need for a data integration platform like FME. When Don's not raving about how much he loves XML, you can find Don working with the team at Safe to take the FME product to the next level. You will also find him on the road talking with customers and partners to learn more about what new FME features they'd like to see.