We've moved! After 20 years of great memories at our previous location, we decided to move to a bigger, better, and brighter space to accommodate our growth. After a month of auctioning off items for a good cause and a flurry of packing, we moved into the new Safe Software HQ on December 10, 2018. We are proud to be the anchor tenant in this brand new 12-floor building. Our name is also on three sides of the building – how cool is that? Watch our co-founders Don and Dale light up the sign here. As Dale said, "You can say that the new Safe office is 'lit'".

Moving into a high-tech location
Located in the heart of Surrey, BC, the new Safe Software HQ is a part of the up-and-coming Health and Technology District where innovators, entrepreneurs, clinicians, and healthcare providers can work closely together. The ability to work alongside and collaborate with other high-tech companies is a big reason we decided on this location.
Getting to work is easier than ever before! Safers can now choose to walk, drive, or take transit as our new building is only an 8-minute walk from the King George Skytrain station. We also have a secure bike and storage room if our staff choose to cycle to work.
57,000 square feet of office perks
Our new home boasts 57,000 square feet of space and occupies the top five floors of the new City Centre 2 building. This state-of-the-art LEED Gold building features a modern new design and includes all of the unique touches and generous amenities that our staff love.
Since 1993, Safe Software has grown from a team of 2 to 162! This move was necessary in order to house our expanding team. The new space now features 196 individual offices (yes, all staff get a private office), 19 meeting rooms, 8 informal collaboration spaces, and an in-house fitness centre complete with men and ladies showers and day lockers. Safers can also enjoy the beautiful views of the North Shore Mountains and Mount Baker in our spacious lounge filled with a variety of comfy seating arrangements, subsidized food, and all the free juice, pop, coffee, espresso, cappuccino they drink!
The new Safe Software HQ embodies our company's fun and inclusive culture. To ensure our staff felt that the new office space belonged to them, we asked them to come up with themes for each of our floors and meeting room names to match. In the end, we decided on Cities and Countries (Whistler, Tofino, Victoria..), Bodies of Water (Pacific, Artic, Okanagan..), Nature and Wildlife (Dogwood, Grizzly, Orca..), and Planets (Romulus, Kronos, Naboo..).
Did we mention we also have a private rooftop terrace? This beautiful 6000 square foot green roof includes seating areas complete with wi-fi access along with a walking path and three community garden beds (a group of Safers with green thumbs already have plans to grow vegetables and flowers up there!).
From concept to reality with the help of FME
With the model of the new building, we were able to make visualizations that helped us envision the future home of the company. From 3D scenes to signage testing to wayfinding – for over a year before this wonderful day, we have been building workspaces that made the anticipation more exciting.
Compare for example, the early visualizations of our cafeteria with the actual photos: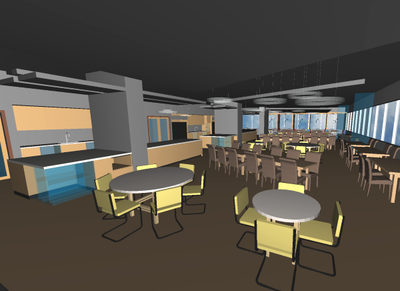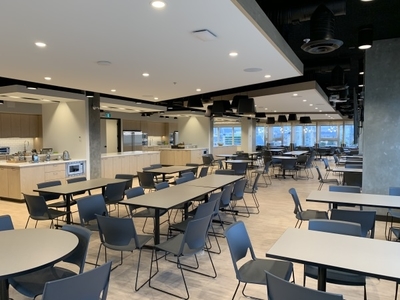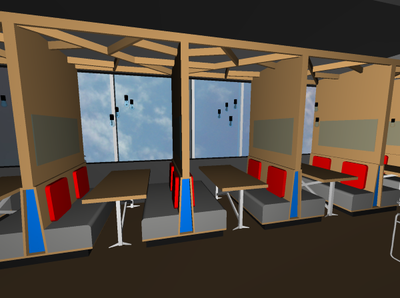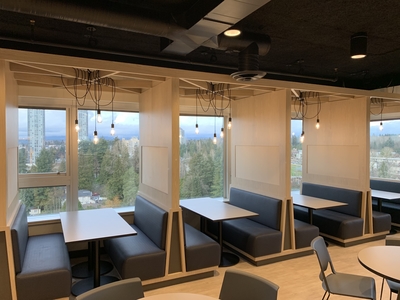 Or watch how our wayfinding application turned from a fun Pacman project to a working AR app here.
And of course, it was a mesmerizing experience to watch how our new building was growing.
Follow the yellow brick road themed carpeted floors
One of the biggest changes with the move is the office structure. In our old space, everyone worked on the same floor interconnected by maze-like hallways that were easy to navigate (once you became familiar with the layout).
In our new HQ, Safers are going to be spread across five floors, making finding one another more of a challenge than it was before. To combat this challenge, Dmitri created an AR wayfinding tool, with the help of FME of course.
Watch: FME AR Wayfinding in the new HQ
Cheers to new beginnings
This is a proud moment for Safe Software and we're very excited to settle in and make the space feel like home. Thank you everyone for your support and we hope to continue to solve your data challenges in our new space. Here's to many more memories to come!

Ada Lee
Ada is one of the reasons so many Safer's are able to attend events and trade shows around the world. She can be found coordinating and planning events in one of her hundred pairs of shoes. Or watching a Marvel movie... in slippers... for the hundredth time.

Dmitri Bagh
Dmitri is the scenario creation expert at Safe Software, which means he spends his days playing with FME and testing what amazing things it can do.