It's hard to believe that the FME User Conference was only just over a month ago! As part of the evening fun we held our first FME Hackathon with the help and sponsorship of the team from Sweco. We had a high turnout, in spite of the late night social the night before! 16 teams presented their pizza and beer fueled ideas, with a chance to win swag from Safe and Sweco.
The Submissions
A lot of teams used FME to work with the web and different APIs, made possible with the HTTPCaller transformer.
Social media connections were present in two teams, with Team Code4Pizza exploring the suggested hack scenario of whether the Microsoft Cognitive Services API could detect natural disasters from social media pictures.
The answer – no.
Instead, the team worked on using facial expressions as a proxy for emotion around the world and mapped this in real time to create a happiness index. FME was also able to connect to Facebook, using a connector built by Lyes. This was successfully demoed by posting worldwide earthquake information into a private group.
Turns out the @Microsoft cognitive services api doesn't recognise fires! One hackathon project that needed diverting at the #fmeuc pic.twitter.com/ORVzcgwRcT

— Jenny LutherThomas (@mapgirll) May 26, 2017
The HTMLReportGenerator made an appearance in a few projects.
Team Cheap Restaurant Finder used the Google Places API to return the nearest, cheapest, open restaurants and streamed back the response as HTML.
Team FME Eye uploaded a workspace to FME Cloud that combined your zodiac sign and geocoded IP address to create a webpage featuring your horoscope and what to wear from your wardrobe based on the weather.
Team 40+ fought their way through "reprojection hell" and emerged victorious, getting FME Cloud to serve up a WMS which was successfully demonstrated inside the FME Data Inspector.
Team Grandpa's littleBits built a workspace that would receive notifications from a motion sensor to detect whether vulnerable people had been active in their home.
With the announcement of the FME Home Use License, the hackathon submission from team FME Home Unboxing suggested using FME to manage photographs with new FME transformers such as: PhotoFaceRecognizer, PhotoOrganizer and PhotoWatermarker.
Two teams worked to produce games using FME. FMEmium is a game where you hunt for the prized resource – FMEmium. Yet another game created for Hackathon used FME to create 3D Tetris using a Sketchup model of the Vancouver Convention Centre.
Several teams focused more on business problems, or as they put it, 'boring' problems (FYI: describing your problem as boring doesn't translate into votes). These hack submissions looked at ArcGIS Online domains, NetCDF4 reading, LRS Route Calibration, heat mapping, raster focal lens and reading from the US National Bridge Inventory.
After a fun round of voting on all of those great submissions, which teams had the best ideas?
Honorable Mention
The team with the most novel, un-FME outcome was Team SunnyBoys, who managed to play Darth Vader's theme from Star Wars using their partially drunk beer!
In Second Place…
Second place was taken by Team Bookies who were fed up of taking a gamble on meeting room availability. Using QR codes and FME they were able to return room availability and give users the option of booking a room. Extra points for sharing your project on YouTube!
See our project at #FMEUC Hackathon 2017, using FME to book meeting rooms in Office 365 calender using QR codes. https://t.co/CVpgri0fIb

— Henrik Thorén (@ThorenHenrik) May 26, 2017
And in first place: Team Dragon!

The Dragons decided to tackle the problem of big data for smart cities. Keeping on top of data from mobile phone signals, buses, metros, trains and taxis is not an easy task. The 60,000 taxis produce 90,000,000 data records a day in 2000 CSV files and this processing alone was taking 24 hours in FME.
With some help and guidance from Safe staff and a previous blog post Think like a point cloud: Tips for effective data processing, Team Dragon managed to reduce the processing time for the taxi dataset from 24 hours to 4.5 hours, over 5 times the speed! This performance boost was achieved by reading the data with the Point Cloud XYZ reader and using point cloud transformers to handle the data.
Next, they tried to process this data in parallel using FME Server with multiple engines. To avoid the overhead of re-reading CSV files and adding blocking transformers such as the Sorter, they started by converting the data to FFS grouped by Taxi ID. Having the files pre-sorted and grouped made it easy to read the files on FME Server and convert to Shapefile.
Interview with Team Dragon
We got in touch with Team Dragons after the event to find out what they thought of the hackathon:
Who made up team dragon?
"Most of our team members are Chinese, and Takashi is Japanese. So maybe also an Asia team." [Xinxin Zhu]
Is there anything special you want to tell us about yourselves?
"I am a DBA. My organization just adopted FME, so I am new to FME." [Alice]
"I joined the group when I heard about the problem this team was trying to solve, and thought it could benefit a project in my work. We are currently using Esri GeoEvent technology to get live vehicle location information onto a web application. Large volumes of archived temporal data can be used for analysis." [Lori]
"I think the special thing of Xu and me is Our FME team in China. By our team's efforts, we attracted more and more people who love FME, we call them FME fans. And we have 3 FME QQ technical exchange groups, sometimes more than 1000+ communication messages per day." [XinXin]
What did you learn from doing the hackathon?
"I learned that teamwork is key and highly skilled team members is a must." [Alice]
"Teamwork, technical skills, learning different application areas of FME." [Jeff]
"I had lots to take out – not only the solution to my project from job, but also the fun of working with brilliant brains from all around the world." [Lori]
"By doing the hackathon, I learned write FFS format can be more faster than other format, like XYZ. And thanks again to Dale for his suggestion!" [XinXin]
Have you done any other hackathons in the past?
"To be honest, this was my first time doing a hackathon. It was actually really good, a great experience. " [Jeff]
Would you do another hackathon in the future?
"For sure if I got to go to the next FME UC." [Alice]
Was FME a good thing to base a hackathon on?
"Hackathon is such a fun activity and I would highly recommend to keep it in the FME UC." [Alice]
"Absolutely. Transformers are easier to get agreement among teammates than produce more disputation by coding." [Jeff]
"Not sure about hackathon being the name of the activity, since many of the participant were more of idea generation than real coding development. Whatever it's called, it was a fun activity…" [Lori]
"Yes, of course it is. Sometimes we talk about FME as the solution that can solve everything, even things you hadn't thought of." [XinXin]
Did you have fun?
"I had so much fun during the hackathon and could have stayed there all night!" [Alice]
"Yes. Really enjoyed the brainstorming, and working with dedicated people-dragons from every corner of the world, with diverse backgrounds." [Jeff]
"Lots of fun…" [Lori]
Did you have enough time?
"Not for the presentation though. One of our team members had to finish the PPT after we went back to the hotel." [Alice]
"If we have more time, we will have better output. Everyone can contribute more." [Jeff]
"It was the right amount of time, I could enjoy a whole other day doing this, but we all have to go back to work… Thank you to all Safe staff for making it fun." [Lori]
The Team Presentations
If you want to watch all of the teams presentations you can do so below.
And if you're interested in accessing any of the submissions, keep an eye on the FME Hub. This is the place to upload and discover new transformers, templates, web connections, and custom formats – and add them to your FME setup. Team Bridge are leading the way with their NBIReader.
All participants can claim their Knowledge Center badge by commenting on this thread. Now it's time to start coming up with ideas for the next FME UC hackathon!
---
A big thank you to everyone who participated in the Hackathon this year, and another big thanks to Sweco for sponsoring the event, enabling us to provide beer, pizza and s'mores which got the FME hackers through the night! Hopefully everyone enjoyed it as much as we did!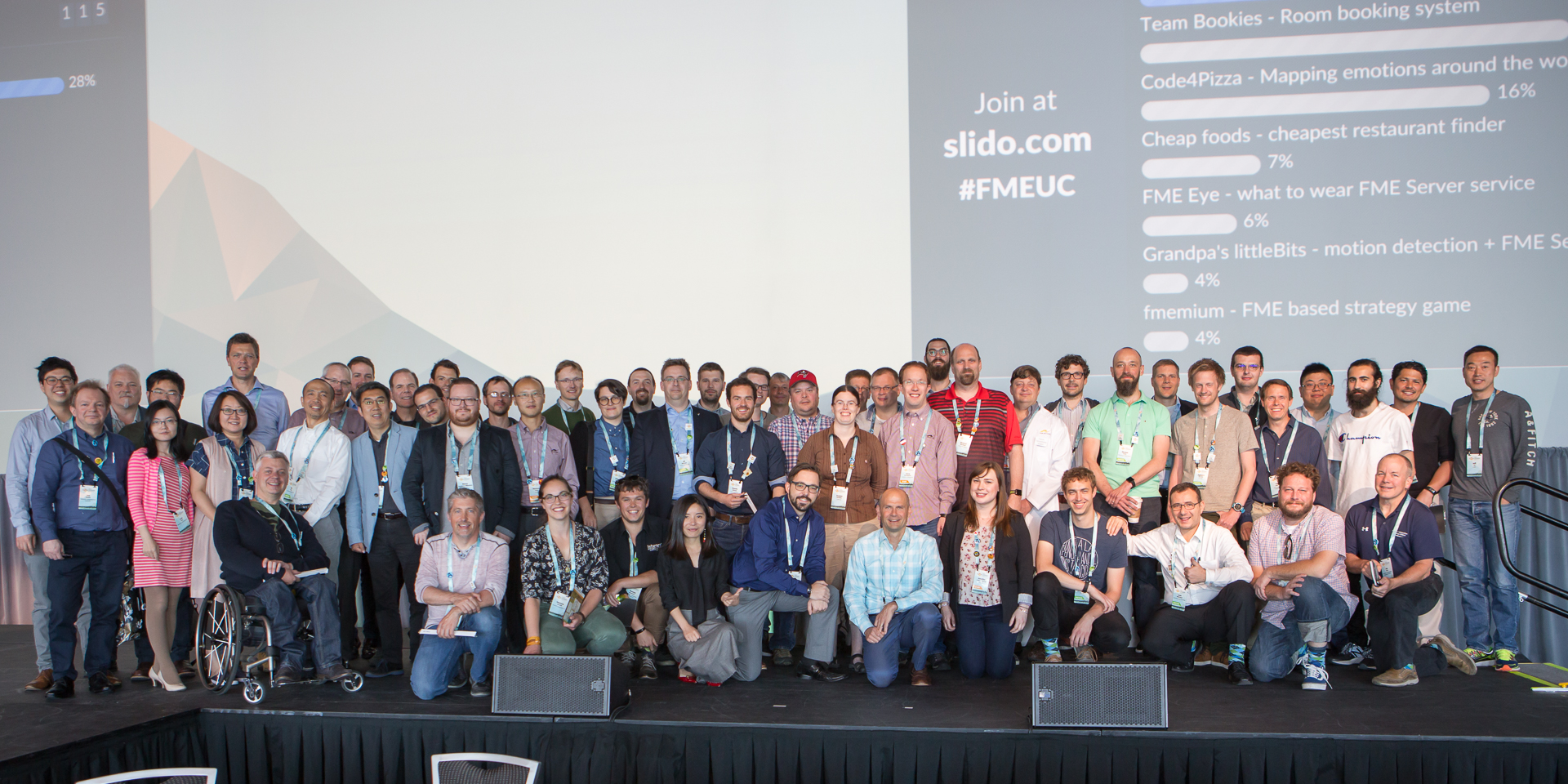 Jennifer Luther Thomas
Jen is the FME Server Technology Expert Team Lead at Safe Software. She enjoys lifting heavy things and being active outdoors. She enjoys these things so much that she's hoping to qualify for powerlifting nationals 2020!