In 1948, 3M started offering a fun job perk: employees were to spend 85% of their time doing assigned work, and 15% doing something innovative of their own choosing. The ideas explored during this 15% time resulted in a cure for polio.
*checks notes*
Wait, sorry, it resulted in the invention of the Post-It Note. That's still pretty cool.
Since then, other companies have embraced this program. Google's "20% time" is a well known example. Other companies, like Facebook, have internal hackathons to encourage creative ideas.
At Safe Software, we embrace this in the form of something we call . . .

(Say that in a really powerful voice, preferably while thrusting your fist in the air.)
Innovation Daze is a week-long event that involves everyone in development—including our co-founders Don and Dale, and often members of non-dev teams. Once a year, we interrupt our regularly scheduled programming and spend the week working on all sorts of cool ideas. These projects might end up changing the face of FME, or they might end with the team saying "let's pretend this never happened". Either outcome is greeted with enthusiasm.
How does it work?
Leading up to it, the entire Safe team brainstorms ideas and contributes to a Trello board, upvoting projects they like and tagging themselves in any they'd like to be a part of.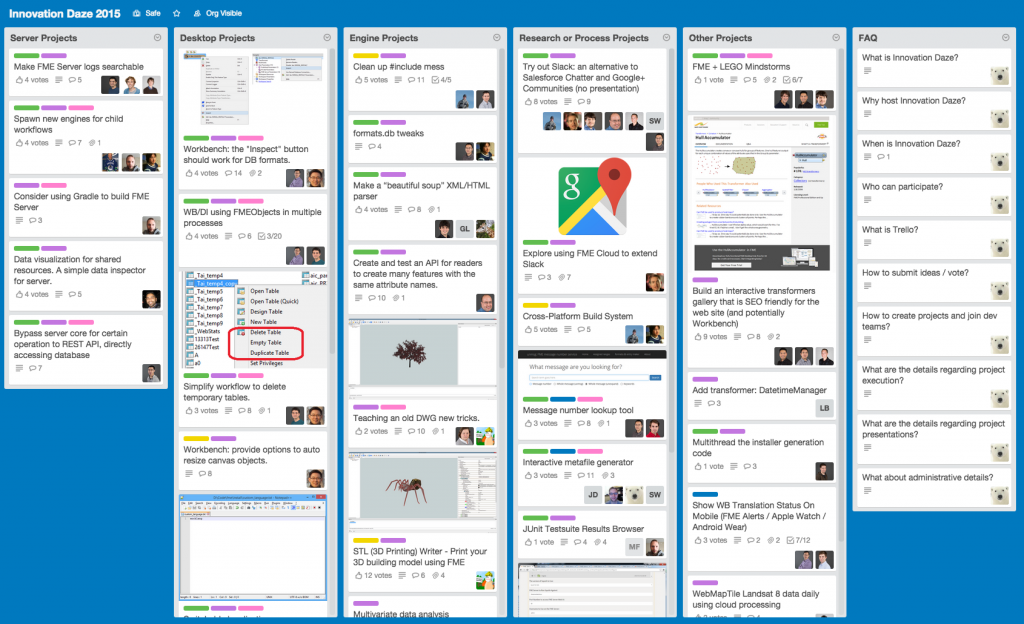 Once projects are selected and Innovation Daze begins, we go into full hackathon mode. Catered lunches are provided every day to fuel our brainpower.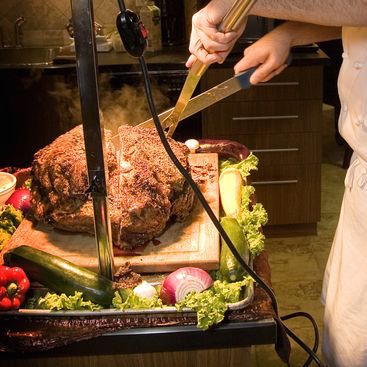 On Friday afternoon, projects are wrapped up and teams present their work in a series of flash demos. All Safers attend and the best lunch of all is served.
This year, we had nearly 50 projects. Here are a few highlights from this and past years.
Awesome Outcome #1: LEGO Mindstorms
A plugin that lets you control LEGO Mindstorms with our own software.
If you're an FME user, you can try this yourself. Download the project on GitHub and start controlling robots today!
Awesome Outcome #2: Slack
After some research and testing performed during Innovation Daze, our team has adopted Slack as an internal communication tool. This has improved the way the entire company operates.
Awesome Outcome #3: FME Transformer Gallery
For FME users, this is a huge deal. You can now search all of our transformers on our website, browse by category, view suggestions, and get statistics. Why didn't we have this before?

Awesome Outcome #4: Minecraft Integration
Yep. Inspired by the work of FME friend Ulf Månsson, this "Minecraft" thing we've been making so much noise about had its early stages as an Innovation Daze project. Now, people are using FME's Minecraft capabilities in huge ways.
These are just four examples out of many successful projects. Devs have explored topics like 3D printing, better user experience, performance improvements, integration with fun services like What3Words, and more. Many projects have also fallen completely flat, which is still great because every time this happens we learn something valuable.
In the end, Innovation Daze is about learning, having fun, and maybe providing value to Safe through ideas or project outcomes. Safers get to collaborate with members of other teams, explore new realms of technology, and prototype creative solutions to real problems.
Want to know more about working at Safe? Check out our careers page for info and job postings.
P.S. Here's my project from this year: a sing-along of every single format FME supports. Crazy fun. Though I don't think I can ever listen to that song again.

Tiana Warner
Tiana is a Senior Marketing Specialist at Safe Software. Her background in computer programming and creative hobbies led her to be one of the main producers of creative content for Safe Software. Tiana spends her free time writing fantasy novels, riding her horse, and exploring nature with her rescue pup, Joey.