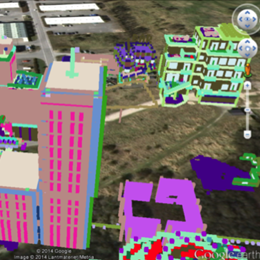 The integration of spatial and gaming is gaining momentum, with a new (and much fancier) Minecraft-based public outreach urban planning project in Kristianstad, Sweden. Plus, FME Pro Ulf Månsson shares some extremely exciting ideas about the future – how gaming platforms and game logic can enhance geodesign, and how spatial professionals could seriously level up by learning some tricks from the game authoring pros. And of course, there's some FME in there.
The Esri Geodesign Summit took place recently, and among the featured speakers was FME innovator (and self-professed Geonerd) Ulf Månsson of Sweco. I've had many conversations in recent years with Ulf, and most of them have revolved around Minecraft.
He's been pushing the limits of what can be accomplished with this uber-popular gaming platform and spatial for a while now, and has some thought-provoking ideas about the blending of the two.
Ever More Elegant: Kristianstad Minecraft Outreach
A good place to see how quickly Minecraft-based professional projects are evolving is in Kristianstad, Sweden. Celebrating 400 years as a city, they wanted to create a project that would involve young people in urban development. David Svantesson, Land Surveyor with the city, spoke to me about what they decided to do – a public outreach project for the redevelopment of an aging neighborhood.
A colleague had seen some press about the Blockholm project, and thought that a similar approach would be a great idea to get the public, and in particular the youth of the city, involved and excited about urban planning. With the technical support of Ulf and his team at Sweco, they set about making it happen.
Whereas Blockholm was a social experiment in creating a virtual city from scratch – with no buildings and minimal infrastructure – the Kristianstad project, just one year later, started out with much more true-to-life representation, thanks to detailed LiDAR scans as one source dataset. The existing buildings, land use, and even individual trees were accurately translated to a Minecraft world (using FME, of course!).
When the world was released to the public, users could sign up for a parcel, and then decide what they wanted to do – demolish and build something entirely new, or redesign and incorporate the existing structures – it was entirely up to their own imagination, with the added element of seeing what impact their design was having on the surrounding cityscape.
"This is a way to get young people's views on urban planning – opinions that rarely come up otherwise," says David. "These kinds of tools enable the municipality to get feedback on their planning directly, a sort of direct democracy."
Spatial & Gaming: Leveling Up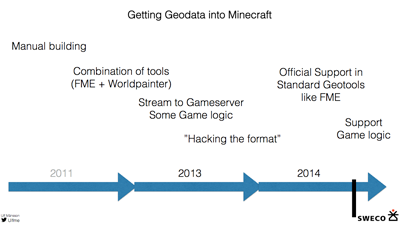 The progress made in getting spatial into Minecraft has been swift. The early "format hacking" efforts were just a couple of years ago, and now, in the Kristianstad project, it was a relatively simple matter of combining LiDAR, building footprints, ortho imagery and other rasters – and using FME's one-step Minecraft writer.
Once the world was live, a Java plug-in took care of permits for lot "owners" and teleporting around to points of interest, with data stored in a central PostGIS database.
"When we did Blockholm, it was kind of bleeding edge, a bit of a hack," says Ulf. "With the tech now standard in FME, it was much, much easier to build – and that lets us focus on what's next."
Get More Game
And so what is next?
Ulf has some rather interesting ideas on that subject.
Enhance interaction with more gaming logic.
Many of these Minecraft-spatial hybrid projects are being directed at youth, be it in the context of outreach or education. Enhancing the game world with tour guides, virtual teachers, and overall navigability will make that experience more enjoyable and productive, and should boost participation (and so the learning experience).
Integrating and adding additional layers of data – like OSM points of interest for teleporting – will make traveling around a Minecraft world that much more familiar and fun. More data will create more intelligence for gameplay.
Another game-style enhancement planned for an upcoming Minecraft urban outreach world is limiting resources, and allocating a budget (like coins or tokens) to a property. The player decides how to spend it – on demolition, new construction or renovation, and what sort of materials they can afford on their structure. It's a familiar game scenario, and highlights the challenges of fiscally responsible urban planning.
Get more value by re-using data in the real(er) world.
FME users aren't the only ones getting excited about the potential of Minecraft in geodesign – you must check out what the UN is doing in their Block by Block project. Like others, the public can design what they would like to see in an area – and in this case, it's possible that your ideas may actually be constructed.
Ulf has been experimenting with ways to bring data back out of Minecraft and into a usable, valuable format to close the loop of design feedback.
Here, buildings created in the virtual world are extracted (using a PointCloudMerger to identify changed structures) and shown in Google Earth. With that information transformed into a widely useful format, it could be taken further in any number of directions.
With the interoperability provided by FME, these models have any number of possible destinations – opening up some very interesting and flexible potential workflows.
Look at how gaming best practices can improve geodesign.
"Imagine virtually testing an emergency evacuation plan, and tweaking the environment until you have a balance of route choices from your users that gets the most people possible to safety."
Perhaps the most innovative proposal that Ulf shared was the result of discussions with a big-name game-authoring house. These companies have massive budgets and research to optimize the game experience, and there are most definitely things we can learn from them.
"I was a bit surprised to find out that they generally don't use actual spatial data to model a game environment of, say, Tokyo or London," says Ulf. "The manual modeling is a huge task. But where we can really learn from them is in alpha testing – where a group of players is let loose in an environment, and their gameplay analyzed. Let's say you want to direct a certain percentage of players down a route. If they don't behave that way, you can experiment with signage, or access, or lighting – until you get optimal player behavior."
And so to continue his train of thought – imagine virtually testing an emergency evacuation plan, and tweaking the environment until you have a balance of route choices from your users (perhaps players?) that gets the most people possible to safety. Or testing what the interaction with your new park design might be like. Or how the traffic flow and parking behavior might be on a game night at your proposed new stadium. Or…!
These might not happen tomorrow – but we undoubtedly can learn from the techniques of those who are expert in directing human behavior in an environment.
---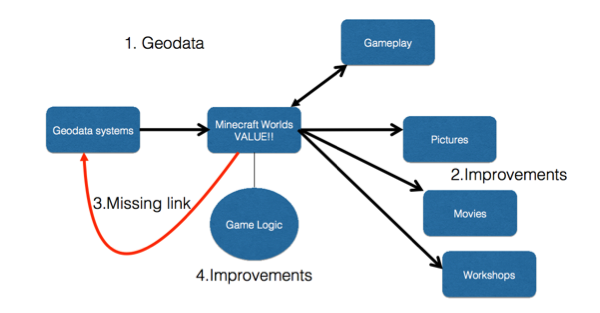 So where should we be focusing our efforts? I'd agree with this assessment – that the missing link (right now) and next logical step is turning ideas created in the game environment back into actual usable data with a lifespan. As seamless interoperability comes to be, we are going to see some incredibly innovative and interactive processes for geodesign and public consultation along with it.
Are you working with Minecraft? Or another gaming platform that we should be paying attention to? Comment below! We'd love to hear about it.
Join our free webinar on Wednesday, February 11th, 2014:
Geospatial and Minecraft – Why You Should Care
Want more Minecraft? Start here –
On the blog:
The Real World and Minecraft Meet in Blockholm, Sweden
Building Norway in Minecraft with FME
Let the Games Begin: Part Two – Denmark's Minecraft Release
From the 2014 FME International User Conference, Plenary Session:
Crowdsourcing Through Gaming – FME and Minecraft
Documentation:
Mojang Minecraft Reader/Writer

Kris Majury
Kris is a content developer at Safe Software who concentrates on creating documentation for FME transformers. Kris works remotely from the wonderful Gulf Islands off the coast of British Columbia.