FME Cloud has been in public beta for close to a year now. Having spent a lot of time building FME Cloud with our incredible developers, I get extremely excited to see the new and innovative ways it's being used by our customers.
Below are just a few of the things they are doing with FME Cloud.
1. Geopol.ch – A Cloud-based Data Quality and Transformation Platform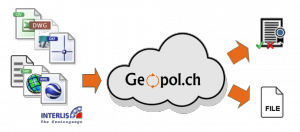 Our good friends at INSER have built Geopol.ch, a web service that lets people perform a wide variety of data quality and transformations tasks online. Simply select the task you want, upload your data, and download the result. As Jean-Luc Miserez says, the main goal of the system is to "make complicated processes easily accessible". And they've done that.
Stepping back a bit, what I find especially exciting here (and it's a trend we're seeing more often) is that FME Cloud is being used as a platform to create new web services. In this case, the end user for Geopol.ch doesn't see or even know anything about FME Cloud. It's merely being used to make the higher service possible.
Get the slides from this presentation.
2. WhiteStar Cloud – Automated Delivery of Oil & Gas Data with FME Cloud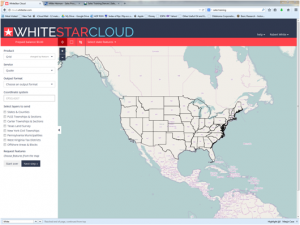 Data delivery is one of the hallmarks of FME Server, and so it is no surprise that this is also one of the biggest uses of FME Cloud.
One such example comes from WhiteStar, which developed WhiteStar Cloud to supply data to the energy industry. WhiteStar's system lets its clients choose the geography, data layers, and coordinate system they want to access via a map, and then deliver that data to cloud-based systems such as ArcGIS Online, or as a downloadable file format.
If you ever find that either data endpoint is in the cloud, then it makes sense to use the FME Cloud deployment of traditional FME Server.
Get the slides from this presentation.
3. Sterling Geo – Provide Mobile Access to Ordnance Survey Data to Surveyors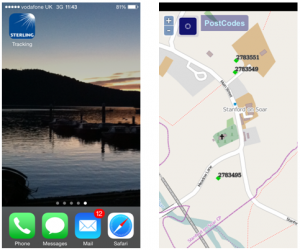 In this example, Sterling Geo needed to help a customer complete a condition survey of wooden poles within six months to meet regulatory requirements. They used FME Cloud to manage the data on the back-end and support surveyors in the field by providing them with licensed Ordnance Survey mapping data via a web browser and mobile apps.
Prototypes and Proof-of-Concepts
This project was a one time thing. After the project was completed, it didn't live on. It's here where the "disposable hardware" aspect of FME Cloud makes perfect sense. Pay only for what you need.
It also illustrates why FME Cloud is ideal for prototyping new solutions:
Easy approval. IT isn't concerned, as FME Cloud sits outside the firewall.
Secure. System is not exposing any corporate systems to the internet.
Easy migration. If successful, it can be easily migrated inside the corporate firewall using FME Server's migration capabilities.
Reduced risk. Pay-as-you-go pricing makes it inexpensive to experiment with.  Plus, no hardware to buy.
Get the slides from this presentation.
4. Grafton Technologies – Creating Safer Airports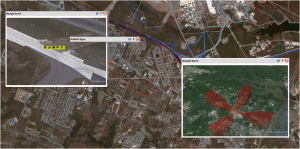 Randy Murphy of Grafton Technologies won our FME Cloud launch contest for this impressive use case. His system helps airports prevent runway incursions, taxiway collisions, and identify gaps in safety regulations.
He uses FME Cloud to connect many systems, including ArcGIS Online and Google Earth, and to perform complex data transformations to provide an integrated view of the airport. This view helps airports ensure that they have correct signage and to identify any obstacles that need to be removed to meet safety regulations. Again, like with many projects involving FME Cloud, the end user doesn't see or need to know anything about FME Cloud. It just works.
Get the slides from this presentation.
5. Alpine Shire Council – Providing Bushfire Assessments in the Field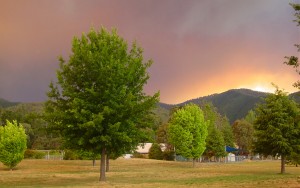 Mobile applications are popping up everywhere. If your mobile app has a need to leverage spatial data then it is hard to imagine a more powerful or cost effective back-end platform than FME Cloud.
Our very first FME Cloud user, Barrett Higman, did just that with his award-winning BAL Plan app. BAL (Bushfire Attack Level) measurements tell landowners how susceptible their building site is to bushfires – which are all too common in Australia – and whether they are able to obtain a permit to build. With Barrett's app, assessors can perform this analysis in the field within seconds by using an iPad's onboard GPS and FME Cloud to do the back-end heavy lifting.
 Read the blog post with more details on this story.
6. Safe Software – Yes, We Use FME Cloud Too!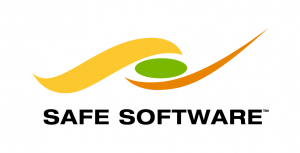 If you don't mind the expression, we like to eat our own dog food. We already use FME Cloud to sync data between our website and back-end data sources. Our IT team uses FME for many things and aims to use FME Cloud to improve integration between internal cloud systems, like Salesforce CRM, for improved corporate reporting.
Of course, we've also used it for more  lighthearted projects like powering the quiz for the FME World Tour 2014 and the recent FME World Cup of Data 2014. For the latter, we used FME Cloud to power a soccer-themed format contest. It managed the contest submissions, updating the website with match results and even tweeting the scores for each game. Below, De Wet gets into more detail on why he used FME Cloud for the contest.
$250 Free Credit for FME Cloud
We give everyone that signs up for FME Cloud a $250 credit.  What can you do with a $250 credit?
You can run a starter FME Server for about 11 days straight 24/7.
You can run a starter FME Server for almost 7 weeks at 40 hours per week.
You can start and stop your server instance as needed and go a lot longer.
Aside from a very small data storage charge, with FME Cloud  you only pay for the hours your server is running.
Try it yourself by clicking here and you too can experience all that FME Cloud has to offer.
If you are using FME Cloud please tell us how you are using it!  We are always excited to engage with you. One way to do just that is to join Stewart Harper and I on October 2nd for a live Q&A on FME Cloud.

Don Murray
Don is the co-founder and President of Safe Software. Safe Software was founded originally doing work for the BC Government on a project sharing spatial data with the forestry industry. During that project Don and other co-founder, Dale Lutz, realized the need for a data integration platform like FME. When Don's not raving about how much he loves XML, you can find Don working with the team at Safe to take the FME product to the next level. You will also find him on the road talking with customers and partners to learn more about what new FME features they'd like to see.