The BC Coroners Service uses FME to blend disparate source datasets – Access, Oracle, MySQL, and spreadsheets – creating a consolidated spatial view to make missing persons and unidentified remains investigations more effective.
It was the stuff of headlines, conjecture, and wild theories. Starting in 2007, feet in shoes were being found on shorelines around the lower mainland area of British Columbia, near the city of Vancouver, with unusual regularity.
The responsibility for identifying them lay with the BC Coroners Service. And at the 2014 FME International User Conference, Randy Dalit, GIS Analyst with the Identification and Disaster Response Unit (IDRU), gave us a behind-the-scenes look at how he is applying FME to making remains identification more effective – and how they got to the bottom of the feet mystery.
The Identification and Disaster Response Unit
The BC Coroners Service investigates all unnatural, sudden and unexpected, unexplained, or unattended deaths within the province of BC, and their job is to determine the identity of the deceased and how, when, where and by what means it happened. From those results, they then classify the incident as natural, accidental, suicide, homicide, or undetermined. To give you an idea of the numbers involved, in 2011 they investigated 7,828 cases, a mix of all case types.
The IDRU provides support and expertise. They actively investigate all historical unidentified human remains cases too – dating as far back as the 1960s, and currently have 186 cases that are unresolved. Unidentified remains can be a number of things, and quite a lot turn out to be archaeological in nature. Location can be a key to identification, and spatial relationships to sites, incidents, and to other cases can often be a key to positive identification for cases both ancient and contemporary.
Data Sources and Consolidation with FME
Dalit is a relative newcomer to FME. The unit has been using Esri GIS technology since 2007, but just added FME to the mix in 2013. His first goal was to produce a consolidated view of all of their source data types, which would cut down investigation time considerably.
They have four primary province-wide datasets to start from – an Access database of missing persons reports and unidentified remains, spreadsheets with case status information, a MySQL database that stores nuclear DNA profile information (including what sort of family samples are available for comparison), and another Oracle database containing registered archaeological sites.

One workspace blends all of these sources, and is run on-demand to refresh the consolidated view as-needed, usually once a week. The output is an Esri geodatabase for use in the GIS system, as well as KML destined for Google Earth, which gives investigators rapid reference to what information is available. Before FME, this process would have done by hand, and repeated for every case. Now, they can see it instantly – and look for spatial and temporal patterns.
Better Data Access Helps Solve Cases
Perhaps the biggest benefit of this relatively simple workflow is how cases are being solved faster and more efficiently – as is evidenced by a steady 6% decrease in unidentified case inventory since January 2013. The ability to run both spatial and non-spatial tabular queries on the consolidated data generates leads, provides instant exclusions on matches, and considers previous exclusions.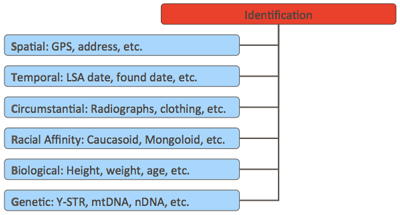 The spatial aspect of the data can be very important in narrowing down results. Rates of travel, the behavior of scavengers, natural features like water and mountains – all can contribute to creating spatial queries looking for missing persons matches.
"Being able to run one-to-many comparisons between missing person cases and unidentified human remains cases is a huge time-saver," says
Dalit. "By not having to do the same comparisons by hand, every time, investigations progress at a much quicker rate – and spatially organized, relevant data helps solve them. And sometimes we see patterns that we wouldn't see otherwise."
The ability to quickly reference cases gives the IDRU a distinct advantage over other investigative agencies. They can see what else has occurred in a location, and that can affect how an investigation is carried out.
One Thing Leads to Another
Like many new FME users, Dalit had a specific task in mind when he started – blend some datasets from different sources and provide a consolidated view to make investigations more effective. And also like many new FME users, now that he has that first project under his belt, he's looking at what else he can improve with it – and may start with integrating isotopic data records, which is definitely a big data project.
And the feet? The Service has positively identified 8 of 10 of them – and many of those identifications were assisted by this FME-driven approach to data. If you're interested in the details of the cases, how they were solved, and what other investigative approaches the IDRU uses the data for, I'd definitely recommend watching Mr. Dalit's presentation from the 2014 FME International User Conference.
Visit www.CanadasMissing.ca for more information on missing persons cases in Canada.

Kris Majury
Kris is a content developer at Safe Software who concentrates on creating documentation for FME transformers. Kris works remotely from the wonderful Gulf Islands off the coast of British Columbia.