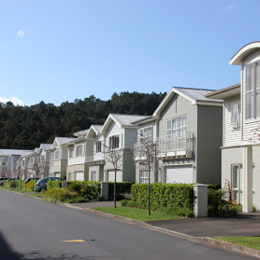 Auckland is New Zealand's largest metropolitan city, with about 1.4 million residents. Projections indicate that by the year 2040, an additional 1 million will live there. Where to put them all? That's the question in front of the Auckland Council – and it's a tricky one to find the answer to.
City planners recently commissioned a "Capacity for Growth" study to gain an understanding of the quantity and location of development capacity in the region to support both 400,000 new dwellings and the corresponding business development that will need to take place with 40% growth in employment.
They needed to assess around 437,800 individual sites for three different types of potential – infill, vacant potential, and redevelopment capacity. Adding to the complexity, they needed to consider both existing and "what-if" land use regulations from each of eight former local authorities that merged in 2010 to form the Auckland Council. And so, in collaboration with geospatial analysis specialists Critchlow, they tackled the analysis with FME – with award-winning results.
Finding Space for Infills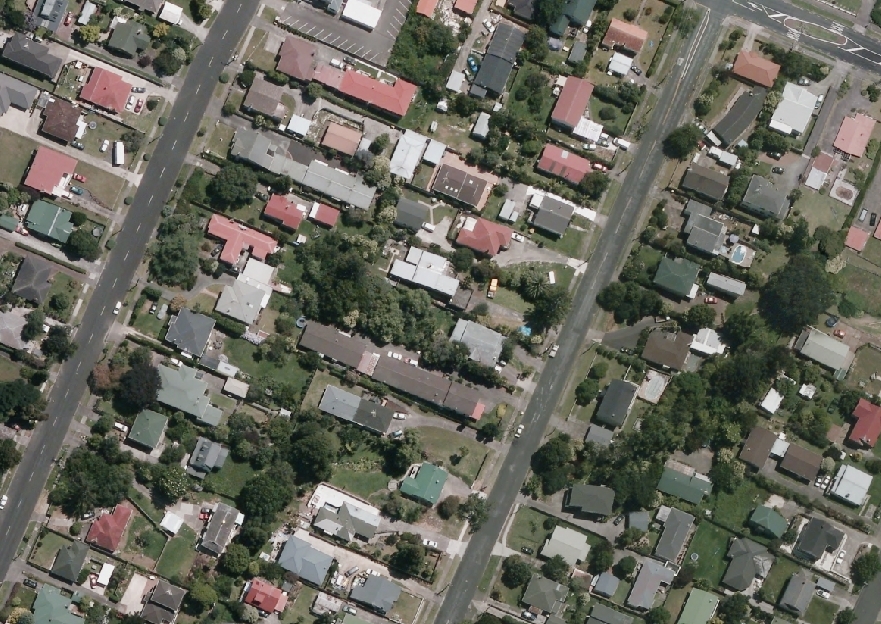 Finding infill capacity was one of the core challenges. While it's relatively straightforward for a person to eyeball where additional construction could fit on a lot, be it adjacent to, in front of, or behind the existing structures, automating it is considerably more complicated.
Certified FME Professional Mike Oberdries of Critchlow, technical lead on the project, explained the methodology to us. Source data includes land parcel polygons, zoning polygons, zoning designations, building footprint polygons, and lookup tables containing planning constraints. The first step is to triangulate the vacant space on parcels that have met certain criteria, as seen here: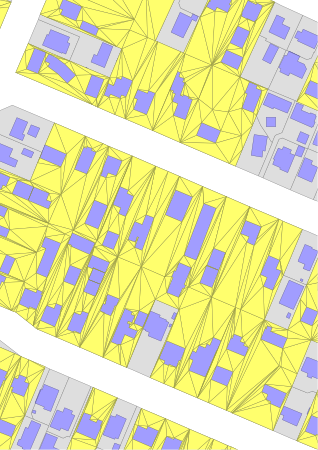 Triangle candidates are then filtered by area and shape ranking, and the infill candidates are tested against other criteria and constraints: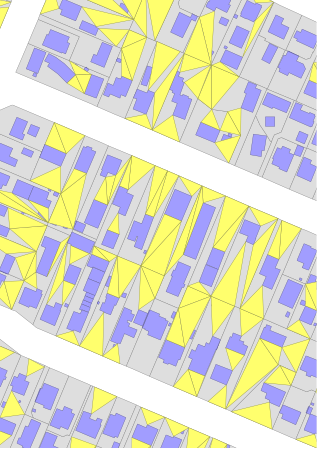 This example shows the type of final output obtained – infill candidates with access are shown in yellow, while candidates that qualify but are subject to site access constraints are in pink: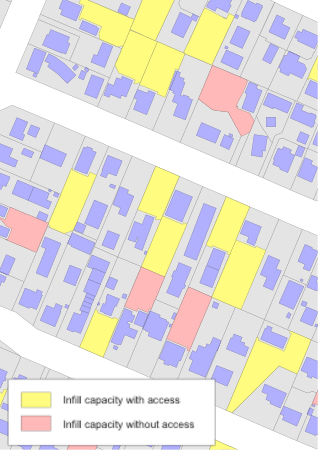 "The algorithms we've developed are quite sophisticated," says Mike. "For example, the infill capacity candidates we derive are site-access and shape-factor aware, which means that sites without access or without a form-factor that would provide a viable building platform can be filtered out."
And why FME? "Its powerful spatial data transformation capabilities and its ability to scale complex geo-processing tasks across large datasets made it the best option for this project," says Mike.
From Four Years to Two Days
Regan Solomon, Team Leader Land Use, Build Environment and Infrastructure Research, gives us an idea of what a leap forward in efficiency the project has provided. "A similar 'Capacity for Growth' project was undertaken in 2006.  While our analysis back then was augmented by GIS tools, it still required every land parcel to be manually interrogated in turn.  This analysis took a large team over four years to complete.  Using our new tools an individual can analyze the entire Auckland region in one to two days."
The ability to run what-if scenarios and test the impact of proposed future changes to planning rules (such as shape or size of the minimum-building-platform) is expected to be a huge advantage for the Council, as city planners can now quantify – much more quickly and accurately – the effect on development capacity.
The "Award-Winning" Part
The team's work was recognized nationally when they took home the top prize at New Zealand's local government GIS awards, presented by the Association of Local Government Information Managers (ALGIM). According to the judges, the Capacity for Growth Study "was flexible, scalable and transportable, providing benefits and cost savings and drastically shortening the time needed for analysis."
Congratulations to both the Auckland Council and Critchlow – we look forward to seeing what innovative approaches they come up with next. And if you're interested in delving deeper into the methodology and results, you can find more information here on the Council's Technical Publications page.

Kris Majury
Kris is a content developer at Safe Software who concentrates on creating documentation for FME transformers. Kris works remotely from the wonderful Gulf Islands off the coast of British Columbia.